Decade of growth between China and Uganda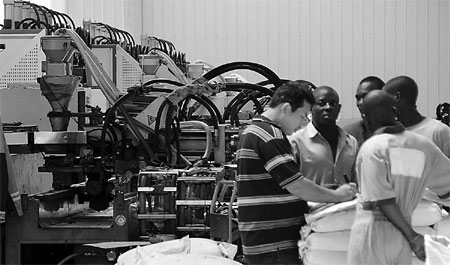 A shoe factory in a Chinese industrial park in Uganda. In 2005, Chinese investment in Uganda was limited to a few hotels and restaurants. But within just five years, China had become the country's second-biggest trading partner after the United Kingdom. Tian Ye / Xinhua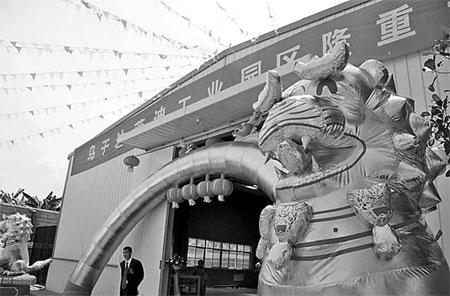 A Chinese industrial park in Uganda officially started operations in October 2010. More than 10,000 Chinese have been involved in bringing different business activities to Uganda. Tian Ye / Xinhua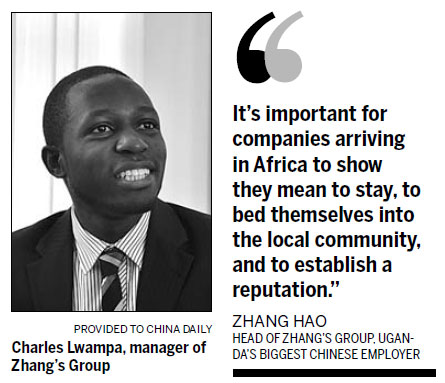 A growing Chinese business presence has brought not only goods and services but also better infrastructure and job opportunities to the East African nation, reports Liu Xiangrui from the capital, Kampala
Charles Lwampa said he hears the greeting "Nihao" often on the streets of his hometown.
The 28-year-old resident of Kampala - the capital, and largest city in Uganda, East Africa - has been working for the past six years for a Chinese company, and said the Chinese influence has grown rapidly in that time.
In various parts of the city, which has a population of around 1.7 million, many Chinese businesses have knitted themselves firmly into the local community.
Chinese businesses have brought new goods, new technologies, and even introduced new culture to a city and country which only a few years ago, were considered among the world's poorest and least-developed, he said.
They have been warmly welcomed, too, because Kampalans recognize just what an important ingredient their presence has become to the local economy.
According to the latest estimates, more than 10,000 Chinese have been involved in bringing different business activities to the East African country in recent years.
"These Chinese investors are helping the Ugandan people live the dream of social transformation," said Lwampa.
"We didn't even have many good buildings in this town 10 years ago. But just look at the growth we have experienced in our local infrastructure.
"This is what Africans need right now. Every bit of investment helps African people, and if the Chinese want to double their level of investment, we would welcome that."
The Chinese influx has been dramatic, especially over the past decade, and it's no coincidence that Uganda too has experienced rapid modernization in that period, as the economic and trade ties grew stronger between the two nations.
In 2005, Chinese investment in Uganda was limited to a few hotels and restaurants. But within just five years, China had become the country's second-biggest trading partner after the United Kingdom.
Statistics from the Chinese customs department show that China-Uganda trade was worth $400 million in 2011, and the planned investment portfolio is now estimated at $2 billion.
Ugandan statistics show that in the same year, the country's gross domestic product was $18 billion, a 5.9 percent year-on-year rise on 2010.
More than 260 Chinese companies have now opened in the country, across different sectors, creating 30,000 local jobs.
Sam Kutesa, Uganda's minister of foreign affairs, recently said that large State-owned enterprises from China have been instrumental in improving the country's infrastructure.
China Communications Construction Co Ltd, for instance, has been in the country since 1996, and will play a major role in building the Kampala-Entebbe Expressway - Uganda's first toll highway connecting the capital to the country's most important international airport. The expressway is expected to open within five years.
The $476 million project benefited from a $350 million low-interest loan from the Export-Import Bank of China, with the rest raised by the Ugandan government, said China Communications Project Manager Zhang Weidong.
The construction was an enormous challenge, not least because most of the raw materials needed - such as iron, cement, and much of the machinery - had to be imported, he said.
But crucially for the local economy, 90 percent of the employees on the project will be Ugandan, with some expected to take up important management positions.
After many years working for Chinese construction projects in Africa including Uganda, Zhang said local workers praise the training they have been given by their Chinese employers, and many have become highly experienced as a result.
"Many have picked up good Mandarin, and say they take pride in working for a Chinese company," he added.
"All the companies I have worked for have made long-term development plans in Africa."
Charles Lwampa's 36-year-old boss Zhang Hao is arguably the best-known Chinese businessman in Uganda. His company, Zhang's Group, is considered the country's biggest Chinese employer.
Like many other Chinese entrepreneurs, he started up in Uganda as a simple importer in 1999, of everything from shoes to schoolbags, and fishing nets to nails.
But that import business has grown since into a diversified enterprise encompassing a restaurant, a firm selling flat-screen televisions and a security company.
With a local workforce of 1,400, Zhang Hao said he gradually dropped his early ambition of simply "making a fortune, and leaving".
"Reputation is everything here. That's based on quality products and having quality people working for you," he said.
"It's important for companies arriving in Africa to show they mean to stay, to bed themselves into the local community, and to establish a reputation.
"Chinese business people need to realize, too, they have to be a little more patient than they might expect to be back home, or elsewhere," said Zhang Hao.
"This is a place to consider long-term investment."
Localization is also key to success, he added, as is being prepared to reward success.
A growing number of managers in his security, and television companies are local employees, and his company has an established system of awarding regular wage increases, to hold onto and also attract loyal employees.
"I have found it easy to work with our people here. We have had to be prepared to abide by local traditions and religions, but there's no great issues in that."
Lwampa works as one of Zhang Hao's business managers, and said the culture of his Chinese employers has helped him grow professionally.
"It was a challenge initially to fit into a Chinese management style. I thought we would have had very different cultural backgrounds.
"But both sides actually complement each other. We have worked well together and gradually learned to appreciate each other's efficiency, planning, and hard work."
However, Zhang Hao pointed out the arrival of Chinese business people like himself, has been far from plain sailing in Kampala, and elsewhere in Uganda.
The influx of shopkeepers, especially Chinese and Indian, for instance, has caused consternation among some local retailers.
"Every time something like that happens, it causes damage to some degree to the Chinese community here," said Zhang Hao, who founded the China Enterprises Chamber of Commerce in Uganda with other Chinese investors in 2009, to protect their rights in the country.
He still believes more effort is needed to help local people "fully appreciate what Chinese business people have brought to the place" and can still bring in the future.
On the flipside, some feel strongly, too, that the growing Chinese presence has inspired many local business people to seek closer ties with China, and the Chinese businesses investing in Uganda.
"Without doubt, China is a big issue," said Abubaker Basajjabaka, a local Ugandan businessman who has enrolled in a Chinese class at the China-Uganda culture center in the capital.
"There's a lot of interest for the business community, especially, to learn Chinese to ease communication, and to widen their scope of opportunities that could emerge from China itself."
Basajjabaka said that business acquaintances of his have also been to China to study, bringing back with them qualifications - especially ones linked to IT - which have meant stronger job prospects back home in Uganda.
"I'd certainly like to see a lot more of this kind of cultural exchange. I am sure there would be enormous local interest."
Contact the writer at liuxiangrui@chinadaily.com.cn
(China Daily 10/23/2012 page13)
Today's Top News
Editor's picks
Most Viewed