US, ROK play risky missile game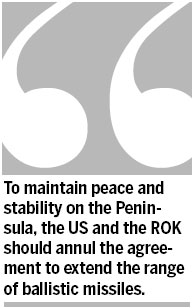 In contrast to the intensifying islands disputes between Japan, on one hand, and China, the Republic of Korea and Russia, on the other, the situation on the Korean Peninsula has been unusually calm and stable for a few months. But this relative calm and stability on the Peninsula could be broken by the US and the ROK's unilateral action.
On Sunday, ROK National Security Adviser Chun Yung-Woo said the country has negotiated a revised pact with the United States that allows Seoul to extend the range of its ballistic missiles from 300 to 800 kilometers. The US and the ROK also agreed to maintain the maximum payload for a ROK-developed ballistic missile at the current level of 500 kilograms. But a reduction in the missile's range is inversely proportional to an increase in its payload.
The Democratic People's Republic of Korea responded on Tuesday saying that its rockets can hit the US mainland. The DPRK National Defense Commission said the country was prepared to counter any US military threat, according to KCNA news agency.

Today's Top News
Editor's picks
Most Viewed