State Council tells cities to focus on public transport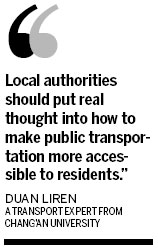 The State Council has told cities across China to make development of public transportation a priority.
Public transport should be the immediate concern in the development of urban transportation, and public transport - comprising rail transit, bus and tram systems - should be accelerated, according to a document released after a State Council executive meeting presided over by Premier Wen Jiabao on Wednesday.
Road conditions for cyclists and pedestrians should also be refined, it said.

Today's Top News
Editor's picks
Most Viewed