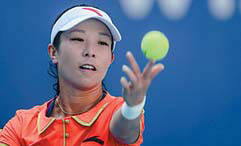 Don't look for China's Zheng Jie to fire her husband.
With compatriot Li Na back on track after replacing her husband with new coach Carlos Rodriguez, the 29-year-old Zheng (pictured) received a similar high-profile offer. It came from Maria Sharpova's coach, Thomas Hogstedt, who also once coached Li.
"Thomas helped me find some suitable coaches last year and he advised me to train in Europe during the winter," said Zheng, who is ranked 22nd in the world after reaching a career-best 15th in 2009.