China must boost its productivity if it hopes to achieve sustainable growth in the face of rising labor costs in the long term, as the country approaches what economists refer to as a "Lewis Turning Point", the global business advisers Ernst & Young LLP said on Tuesday.
The average labor cost in China has nearly doubled in the past five years, going from less than 25,000 yuan ($3,960) a year at the beginning of 2007 to more than 40,000 yuan a year in 2011, E&Y showed in a new report.
"Wages have been pushed up by long-term decline in the aggregate labor force, combined with a rapid depletion in rural surplus labor, which has until recently provided an ultimate source of cheap labor," said the report.
But it warned that the massive reallocation of labor "from low productivity agriculture to higher productivity manufacturing is coming to an end".
Even before the Chinese economy started to turn down, there were concerns that it was facing a middle income trap, widely identified by economists as showing the danger of a Lewis Turning Point - a phenomenon identified by the economist Arthur Lewis in the 1970s from research done on the economic history of Japan, which showed that rapid urbanization led to a growth in manufacturing, which in turn brought faster economic expansion, as has been seen in China.
However, eventually, the phenomenon comes to an end as wages rise and the country's competitive edge disappears, says the Lewis idea.
The latest E&Y report said the number of migrant workers in China has been increasing at a slower pace since 2005.
It added that although there are 320 million laborers still in agriculture, only 20 million have the potential to migrate to cities, pushing the country to a point at which "the excess labor in the subsistence sector is fully absorbed into the modern sector, and where further capital accumulation begins to increase wages" - pointing to a classic Lewis scenario.
Simon Benjamin, a partner with E&Y advisory services, said the labor shortage is not yet a major problem in China, as there are still measures the government can take to free up the pool of rural labor, such as the further easing of the hukou, or household registration, system.
"However, these are unlikely to reverse the trend of increasing labor costs," he said.
They will continue to rise as minimum wages and social welfare improve, Benjamin said, adding that on top of the 13 percent annual increase in the minimum wage as set in the 12th Five-Year Plan (2011-15), mandatory social welfare will add another 35 to 40 percent to the payroll cost.
"Rising wages are most significant to primary producers and services industries, as labor takes the major share of total costs in these sectors," Benjamin said.
Apart from labor, capital - still relatively cheap in China - will also become more expensive as policymakers move the country toward interest rate liberalization, the report said.
Material costs, too, will continue to rise and will reach global levels, it added.
Commodities prices in China have increased 51 percent in the last five years, and energy prices were up 77 percent, it noted.
And last but not least, as the economy slows down, it has become harder and harder for companies to pass on the costs to customers.
Accompanying the report, E&Y released details of a new survey, carried out among more than 200 multinational companies in China, which showed 85 percent of the respondents said they could only pass less than a third of their own rising costs onto their customers.
The phenomenon is more obvious in manufacturing, where input prices have been growing faster than output prices, squeezing profits.
"Salaries have more than doubled here since 2007, and the minimum monthly salary increased from 1,300 yuan per person to the current 3,000 yuan," said Ye Shuhui, manager of Ningbo Jinfan Toy Co Ltd, which sells most of its products to the United States, Europe and Southeast Asia.
"We have literally no profits this year and are doing everything we can to avoid shutting down," said Ye.
In July and August this year, Ningbo Jinfan managed to land orders worth $2 million - encouraging, but still some way behind last year.
To make up the shortfall caused by increased costs, it has raised product prices by at least 30 percent, Ye explained.
"Given the uncertain global outlook, the impact of slowing revenue growth and rising costs will directly affect profitability, and companies must view productivity as a strategic imperative," added Nigel Knight, managing partner with E&Y advisory services
E&Y's survey found that 90 percent of the surveyed companies said improving productivity had become more important in the past two years, while the same portion said it would be their priority over the next two years.
"China has been enjoying massive growth in productivity, driven by people moving from a rural economy to an urban economy, foreign direct investment, a series of supportive government policies, as well as a good global economy," Knight said.
Contact the writers at weitian@chinadaily.com.cn and shijing@chinadaily.com.cn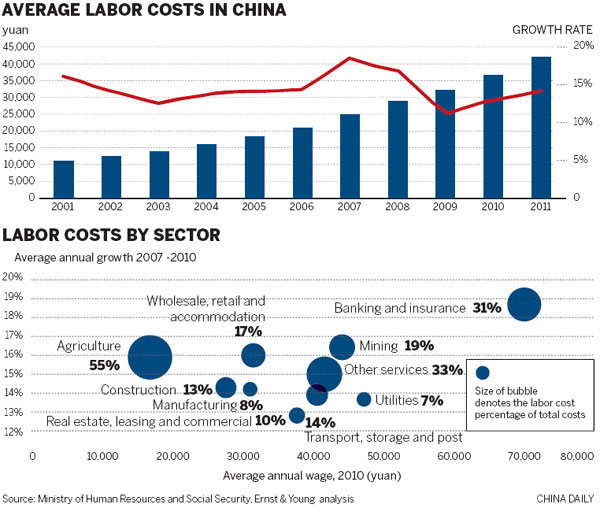 (China Daily 09/26/2012 page13)