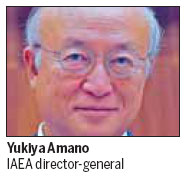 The International Atomic Energy Agency is firmly committed to intensifying dialogue and will continue to negotiate with Iran, the chief of the UN nuclear watchdog has said, even though no concrete results have been achieved since November 2011.
"We need to negotiate, of course, but it should produce a concrete outcome and it requires Iran to do so," IAEA Director-General Yukiya Amano told China Daily in Vienna. He was attending the agency's five-day general conference, which opened on Monday.
Amano called on Iran to engage substantively with the IAEA, emphasizing that implementation is the key to resolving the Iranian nuclear issue.