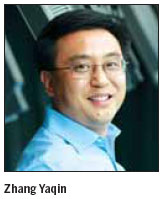 Global business, academic and political leaders are gathering in Tianjin this week for the sixth annual World Economic Forum's Annual Meeting of the New Champions, also known as the Summer Davos.
Experts and insiders agree that the world is experiencing a leap in the evolution of technology and innovation. This is transforming industry and society while giving rise to the foundations of a future economy.
Accelerated technological progress promises to change the world and provide solutions to some of our most pressing societal challenges.