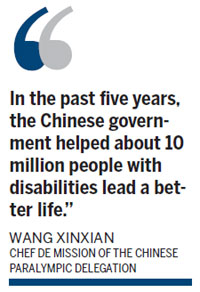 It was Beijing 2008 all over again.
China made history the past two weeks at the 2012 Paralympic Games with a medal haul of 95 gold, 71 silver and 65 bronze medals, boasting a 59-gold margin over second-place Russia's 36-38-28.
China, which topped the tally in Beijing with 89-70-52, bettered its own records in all three medal categories. China made its Paralympic debut in New York 1984 with two titles, and first topped the table in Athens 2004 with 63-46-32.