Fewer imports, weak exports make further stimulus increasingly likely
China imported less in August than in the same month a year ago and saw its exports continue to increase at a slow pace, giving the Chinese government more reason to consider adopting further stimulus and monetary easing policies.
Last month, China's imports decreased by 2.6 percent from a year earlier, showing the first monthly decline in seven months, according to the General Administration of Customs.
In July, it increased by 4.7 percent
"The drop (in imports) happened unexpectedly, suggesting the nation's economic growth is continuing to slow down," said Wang Tao, Chinese economist at UBS AG.
Wang said the developments have put pressure on the Chinese government to adopt further stimulus measures.
China imported 355,856 metric tons of refined copper, alloy and products in August, up from 340,398 tons in August 2011 but 2.9 percent less than in July.
Last month also saw China reduce its net crude imports to their lowest level in almost two years.
And the country's imports of soybeans decreased by 25 percent in August to their lowest level in six months.
China's overseas shipments, meanwhile, increased by 2.7 percent year-on-year, up from 1 percent in July, resulting in a trade surplus of $26.7 billion, the agency said.
Although the figure was up slightly, the increase seen in exports was "still pretty bad", and "will probably continue to be in the next few months", said Li Wei, an economist with the financial services company Standard Chartered Shanghai.
"The weak exports will continue to have a harmful influence on the country's economy, placing China under greater pressure to take more measures to stimulate the economy."
He said the country should put a priority on "easing monetary policy".
The export and import figures were released days after other economic data for August also suggested the Chinese economy is decelerating.
According to the National Bureau of Statistics, China's industrial output increased at its slowest pace in three years, and the rate of increase for fixed asset investment, excluding investment in rural households, was lower than expected in the first eight months of the year.
China's economy grew by 7.6 percent year-on-year during the second quarter of 2012, showing its slowest growth in three years and a sixth straight quarterly slowdown.
In a bid to revive the economy, China recently approved 60 roads, railways and urban projects worth more than $150 billion.
Li said such spending, despite the intent behind it, will have effects that are "small in the short term", and the government should look more closely at "loosening monetary policy" further.
The central bank lowered banks' reserve requirement ratio three times between November and May, taking it down by 50 basis points each time. The ratio, which controls how much money lenders are required to keep in reserve, now stands at 20 percent for the biggest banks.
The central bank has also held off from loosening monetary policy since July 5, when it cut interest rates for the second time in less than a month.
"Investment in infrastructure is also likely to pick up further, judging from forward-looking indicators," according to a report written by Zhang Zhiwei, the Hong Kong-based chief China economist for the financial services company Nomura Holdings Inc.
The total amount of investment planned to go into projects starting in August increased by 33 percent year-on-year. The month before, the rate of increase in such investment was 25 percent, a result largely of projects that were approved in May and June, it said.
"A large number of the new projects approved in July and August will likely show up as new project investment in coming months, which we believe will show more than a 40 percent year-on-year increase," it said.
Speaking to business executives at the Asia-Pacific Economic Cooperation forum held in Vladivostok, Russia, over the weekend, President Hu Jintao said China's economic growth is subject to "notable downward pressure", adding that China's small and medium-sized enterprises are having a "hard time" and exporters are faced with more difficulties.
Xin Changxing, vice-minister of human resources and social security, said on Monday that the economic slowdown is beginning to have noticeable effects on the job market.
Many international institutions, including UBS AG, have become more pessimistic about the prospects of economic growth in 2012. Earlier in the year, Premier Wen Jiabao set a target calling for China's GDP to grow by 7.5 percent this year.
Zhang nonetheless remains optimistic about the economy's prospects, saying "growth will rebound in the second half" of the year, as leading indicators of property and infrastructure investment have "improved sharply".
Expanding exports
During the first eight months, trade between China and the European Union decreased by 1.9 percent year-on-year to $365.1 billion, and that between China and Japan, it decreased by 1.4 percent. Yet, China's trade with Russia increased by 15 percent and with Brazil by 6 percent year-on-year.
China's exports have been increasing at an ever slower rate since the second half of last year, and went up by a mere 1 percent in July. "As the US unemployment rate remains high and the EU is still struggling with debt woes, China's export prospects are not good in the short term," Li said.
dingqingfen@chinadaily.com.cn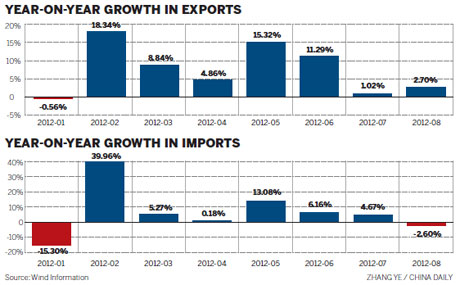 (China Daily 09/11/2012 page13)