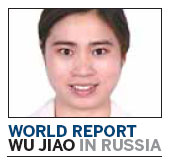 When 21 Asia-Pacific leaders and representatives stay in the brand new university campus rooms at the isolated Russky Island in Russia for the annual APEC summit, many of them might be struck by the fast development of Russia's once remote Far East region, and also by Moscow's determination to embrace Asia.
Yet few might expect the meeting signals a crucial juncture in Russia's Asia-tilting policy that will have profound impact on the Asia-Pacific geopolitics, where an eager US is already anxiously expanding its influence.
A politically, economically and culturally European country, Russia's ambition to shift its foreign policy and trade to Asia and the Pacific is evident through its hosting of the APEC summit in Vladivostok, a city that has only 600,000 residents and is located 9,000 km from Moscow.