Ever-stronger China-Malaysia ties
Updated: 2012-08-31 08:13
By Qin Zhongwei (China Daily)
| | | | | | | | | |
| --- | --- | --- | --- | --- | --- | --- | --- | --- |
|   | | Print | | Mail | | Large Medium  Small | 分享按钮 | 0 |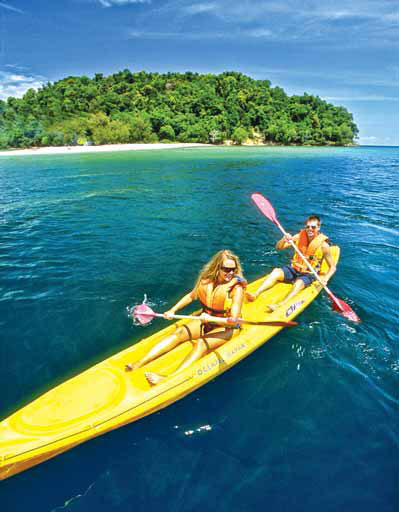 Exotic islands and beautiful beaches make Malaysia an increasingly attractive tourist destination.

Full range of cooperation by top trading partners
China's economic growth will help bring the strategic partnership between China and Malaysia to a higher level, said Datuk Iskandar Sarudin, Malaysian ambassador to China.
Datuk Iskandar, who was appointed as the ambassador to China two years ago, talked with China Daily ahead of Malaysia's National Day on Aug 31, noting China's economic growth provides enormous opportunities for his country.
"China's economic success, as well as its economic stability, will bring benefits to Malaysia," he said.
Last year, China-Malaysia trade totaled $90 billion, up 21.3 percent from 2010. It is expected to hit an historic level of $100 billion this year.
China has been Malaysia's largest trade partner, second-largest export destination and largest source of imports since 2009. Malaysia is now China's eighth-largest trade partner, and its largest among ASEAN member countries.
Among the highlights of the bilateral ties, the Qinzhou Industrial Park in the Guangxi Zhuang autonomous region, represents the highest level of cooperation, said the ambassador.
Joint project
Located in an economic zone near the Beibu Gulf, a hub of China-ASEAN cooperation, it is the first park that the two countries built together, and China's third with a foreign government following two previous parks developed in partnership with Singapore.
The Qinzhou Industrial Park took less than a year from planning to the onset of construction, a feat described by Malaysian Prime Minister Najib Razak as "Qinzhou Speed".
"In the future, if I want a project to be finished as fast as possible, I will say, 'finish it with Qinzhou Speed'," he said on April 1 at the launch ceremony for the park.
The efficiency reflects the mutual trust between the two governments, said the ambassador.
"So far, it is the only industrial park for Malaysia with a foreign country outside our borders,' he said. "A second joint industrial park with China will be built in Kuantan, the largest city on Malaysia's eastern coast."
He said that few could have predicted that China would become the world's second-largest economy when the two countries established diplomatic relations on May 31, 1974.
The ever-stronger bilateral ties over the past three decades prove the vision and wisdom of former leaders in both countries, said Datuk Iskandar.
The two countries have witnessed rapid expansion in trade flows, especially since the full implementation of China-ASEAN Free Trade Agreement, or CAFTA, on Jan 1, 2010.
"When more products can be exchanged between the two sides, more people can be involved. It will generate income, investment, technology, knowledge and increase the volume of trade," he said.
The ambassador said he is delighted to see that the "legacy" of former leaders is able to continue today.
He pointed out that strategic cooperation has now expanded to a comprehensive range of fields including trade and investment, technology, tourism, education and culture. He added that he hopes the two countries will continue to work on cracking down trans-national crime, smuggling of women and children and proecting the environment, which will further consolidate the bilateral cooperation.
Booming tourism
After visiting many Chinese provinces and cities, yet still wishing to leave a footprint on more, Datuk Iskandar said he just represents that many Malaysians who have a growing interest in visiting China to discover how its economic miracle transformed the country's urban and rural landscapes, and also to explore the culture and its long history.
The convenience of transportation and Muslim restaurants almost everywhere around the country also attract more Malaysians.
"There are so many places to see and discover. In Beijing, for example, one week is not enough," he said.
In turn, as many Chinese cities now have direct flights to Malaysia, Chinese tourists now can also "go to Malaysia from almost every part of China", he said.
About 1.3 million Chinese go to Malaysia annually and around 1.4 million Malaysians come to China, he said. The number of Chinese tourists who eye Malaysia as an ideal tourist destination for its beautiful beaches and good shopping environment is also growing rapidly.
Education ties
Malaysia and China also agree to boost the cooperation on education, which will benefits the connection of future generations, Datuk Iskandar said.
Now there are about 5,000 Malaysian students studying in China, including 150 at Beijing Foreign Studies University alone, according to the ambassador.
During Premier Wen Jiabao's visit to Malaysia last year, he said the two countries will sign agreements on mutual recognition of higher education and academic degrees.
Malaysian media reports project the number of Chinese students in Malaysia will surpass 20,000 after the agreements are signed.
"The old generation has done their job. It is now the young people who will lead our future," said the ambassador.
Li Shuang contributed to this story
qinzhongwei@chinadaily.com.cn
(China Daily 08/31/2012 page12)