Merkel has to balance her priorities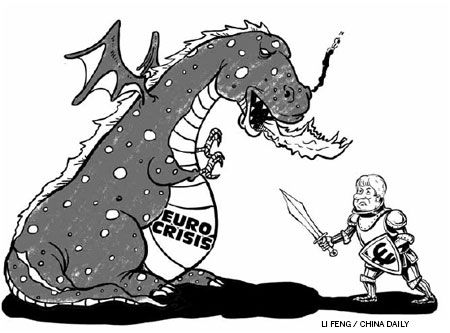 German Chancellor Angela Merkel's second visit to China in a year comes against the backdrop of dire forecasts of a difficult September for the eurozone. Mindful of such concerns and persistent pessimism in global financial markets, Merkel is now taking bold political initiatives at home and overseas. Indeed, her visit to China should be seen as an effort to assert leadership across the eurozone.
At home, Merkel recently sent out a clear message to her critics that Germany must pay a price for eurozone leadership. She cautioned her colleagues against loose talk about a "Grexit" - Greece's exit from the eurozone - and assured visiting Greek Prime Minister Antonis Samaras that Germany remained committed to his country's membership of the eurozone.
While it required courage to take such a tough stance, doing so helped to bolster her position at home and throughout the eurozone. There is now no doubt that Merkel is willing to commit Germany to the cause of preserving the European Union and the eurozone both, and that she will work to achieve that goal. If she succeeds, she will emerge as the first great European leader of the 21st century.

Today's Top News
Editor's picks
Most Viewed