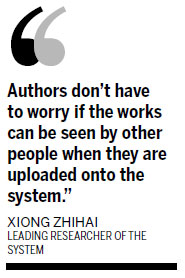 Enabling Chinese residents to file free copyright applications at home, a groundbreaking online registration system was unveiled last week in Chongqing that offers applications for copyrights, evaluation, protection, management and trading.
The DCAS system, the first of its kind nationwide, was developed by the copyright administration of Chongqing city and Chongqing University of Posts and Telecommunication.
"In the past, an author couldn't apply for a copyright until the entire work was completed," said Xiong Zhihai, dean of the School of Law at the university and leading researcher of the system.