Jaworski leads group hoping to help football take hold in China
Updated: 2012-08-28 08:01
By Dusty Lane (China Daily)
| | | | | | | | | |
| --- | --- | --- | --- | --- | --- | --- | --- | --- |
|   | | Print | | Mail | | Large Medium  Small | 分享按钮 | 0 |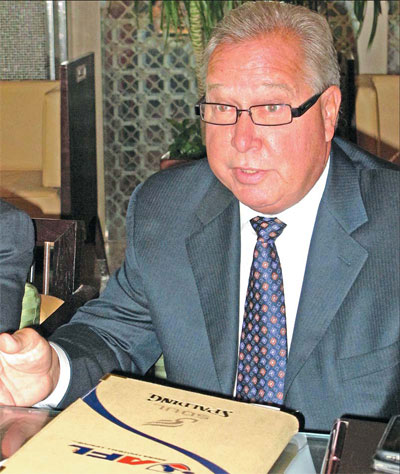 ESPN analyst Ron Jaworski was in Beijing on Monday to announce the Arena Football League's foray into the Chinese market. Lee Yong / For China Daily
Pro football is coming to China.
A group fronted by ESPN analyst Ron Jaworski was in Beijing on Monday to announce that the Arena Football League is working on building a bridgehead in China.
"We're coming to a country that doesn't know much about what American football is, but it's a country that loves sports," Jaworski said. "They will pick up on football very quickly. I watched the Olympics, and watched those weightlifters and I think, I'd like to have some of those guys on my offensive line."
The league will stage a series of exhibitions next fall, then launch what it hopes will be a six-team, 10-game schedule in October 2014. Games will be held in the fall and winter to allow AFL coaches and trainers the freedom to come to China during their offseason and teach their Chinese counterparts how to build teams on their own.
The league will begin with a mix of Chinese and American players, but has set a firm goal of converting to all-Chinese rosters as quickly as possible.
"Our goal is in China, for China," said Marty Judge, a co-owner of the AFL's Philadelphia Soul along with Jaworski and CEO of The Judge Group. "The NFL went in to Europe and it failed because you need to have (a country's own) players on the teams."
Former NFL coach Dick Vermeil is also backing the project, which has been two years in the making.
Jaworski said he's confident China will latch on to the game.
"There are plenty of Americans who don't understand football, but they still go to the games," he said.
That being said, the league faces strong headwinds as it attempts to introduce football to a nation that has little experience with it.
Getting the sport off the ground in China will prove challenging for a variety of reasons, not least of which is that the cost of equipment and facilities can be high for young players interested in taking up the sport. Broadcast-rights money isn't dangling in the future, either. Unlike in the United States, where ESPN pays the league $1.9 billion a year to televise its games, CCTV instead charges leagues for airtime, money the AFL hopes to recoup through sponsorships.
It's also a complicated game that can take years for fans to understand well.
Jaworski is modeling his plans in China on another Asian venture that's proven successful for him, the Elite Football League of India he helped found last year. He said the EFLI recently sold its TV rights for $400 million.
"In India, I don't think they knew if the football was stuffed or pumped," Jaworski said. "Now there are already 12,000 players, (and when the best of them play) it's like a good (NCAA) Division III game."
Of course, India has a strong history of rugby, a sport similar enough the EFLI has turned to it to harvest many of its players.
To that end, the visiting AFL investors paid a visit to the Chinese rugby union on Monday, though Chinese rugby is still in its fledgling stages.
Though the NFL has voiced its support of the venture, the AFL won't have the luxury of the larger league's cache. The gamble is predicated on the hope that the AFL's fast, high-scoring nature will play well in a new market.
The modified format, with a smaller field and only eight players, is somewhat comparable to Rugby Sevens, an alternate version of the game that also enjoys success among younger fans and that will become an Olympic sport in 2016. The AFL similarly hopes that if football is eventually added to the Olympic program, it will be with arena rules.
The AFL will go out of its way to add some glitz when possible, be it cheerleaders, musical acts or celebrity ownership. That's among the reasons Jaworski, a ubiquitous presence on American football broadcasts and a former NFL Pro Bowl quarterback, made his first trip to China to participate in the announcement. The Soul, in fact, formerly boasted American musician Jon Bon Jovi as a co-owner.
Gary Morris, president of The Judge Group, said the AFL voted unanimously to support what promises to be an expensive venture.
"Everyone said we want to be involved," Morris said. "We want to send coaches, we want to send managers, we want to help in whatever way we can."
The league is adamant it will resist the temptation to sell franchises to American owners and will instead focus solely on enticing Chinese buyers.
Obstacles aside, Jaworski was adamant that football's popularity in North American and Europe can spread to China.
"I don't have a magic wand to wave and say this is gonna be great," he said. "It's an enormous project."
dustylane@chinadaily.com.cn
(China Daily 08/28/2012 page24)