Solar firms hope Merkel visit can ease tension
China's solar industry hopes that German Chancellor Angela Merkel's visit to Beijing on Thursday will help resolve disputes which may severely harm bilateral trade ties.
The two-day visit will be Merkel's second to Beijing this year, which highlights China's growing economic importance to Germany and other European countries.
And it comes as Chinese solar companies wait to see whether the European Commission will heed German company SolarWorld AG's call for an anti-dumping investigation against them.
"We hope the visit will help improve cooperation between solar companies from the two countries and have a positive impact on the case," said Wang Guiqing, vice-president of the China Chamber of Commerce for the Import and Export of Machinery and Electronic Products.
He said a recent visit to Europe by officials from the chamber and representatives of Chinese solar companies succeeded in helping their Germany counterparts realize that, if the European Commission decides to launch the investigation, it will affect trade relations between China and Europe in a negative way.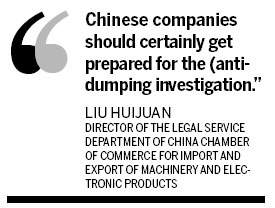 "Almost all the industrial associations in Germany we have communicated with agreed to provide chances for Chinese companies to cooperate with German companies in all sectors of the photovoltaic solar industrial chain," he said.
Most European companies had not realized how severely it would affect the solar industry, especially suppliers and downstream companies, including after-sales providers, Wang said.
In fact, some German companies such as polysilicon makers and equipment manufacturers, for whom China is a major customer, are against the investigation.
From Aug 16 to 23, officials from the chamber and representatives of eight major Chinese PV solar companies, including Suntech Power Holdings Co, Yingli Green Energy Holdings Co Ltd and Trina Solar Ltd, met officials from 10 industrial associations, including the German Solar Industry Association and the German Engineering Federation in Germany and Belgium.
Wang said it was a pity that SolarWorld AG declined to meet the Chinese delegation.
"The Chinese companies are very open to cooperation," he added.
Some of the companies China Daily reached declined to comment on the trip.
"It is still too early to predict the results of the case. Chinese companies should certainly get prepared for the investigation," said Liu Huijuan, director of the chamber's Legal Service Department.
According to its rules, the European Commission will decide whether to launch the probe in September, 45 days after SolarWorld AG filed its complaint on July 24.
Europe is China's largest solar market and accounts for about 70 percent of the global market. Meanwhile, China imports key equipment for solar-product manufacturing from Germany, as well as polysilicon, a raw material for photovoltaic solar panel production. China imported 40,000 tons of polysilicon in the first half of the year, up 34 percent year-on-year and a new high, according to the latest figures from the General Administration of Customs. Germany accounts for 20 percent of these imports.
Six US solar panel manufacturers, including SolarWorld USA, accused Chinese companies last year of selling panels in the US market at prices below their costs. In May, the US announced anti-dumping duties on Chinese solar equipment makers ranging from 31 percent to 250 percent.
China then announced it would launch an investigation into US polysilicon exports.
Analysts said they believe Chinese companies are getting better at protecting their rights under World Trade Organization rules.
On Monday last week, the Chinese government was asked to investigate if European winemakers are being subsidized and dumping their produce in China, a move analysts said is Beijing's latest response to the European Union's rising trade protectionism against China.
The wine complaint came after Chinese solar companies called in the previous week for anti-dumping and anti-subsidy probes into polysilicon exports from the EU.
dujuan@chinadaily.com.cn
(China Daily 08/28/2012 page14)
Today's Top News
Editor's picks
Most Viewed