Sichuan program just the start of charity push
Updated: 2012-08-27 08:07
By Sun Xiaochen in Leshan, Sichuan province (China Daily)
| | | | | | | | | |
| --- | --- | --- | --- | --- | --- | --- | --- | --- |
|   | | Print | | Mail | | Large Medium  Small | 分享按钮 | 0 |
NBA China is going to work closely with Yao Ming to promote charity on a larger basis.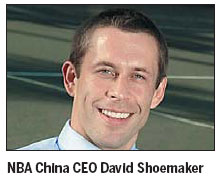 In support of the Yao Foundation Hope Primary School Basketball Season, NBA China invited Los Angeles Clippers forward Caron Butler to join Yao at the event's final game as assistant coaches in Leshan, Sichuan province on Saturday.
Butler, who also participated in a campus clinic on Friday, received a warm ovation from about 400 students in the packed Leshan Stadium and soon found amid an enthusiastic crowd.
The two-time All Star entertained the crowd by pretending to complain about the referees, flinging his hat to the ground while holding his head with both hands.
"This crowd of youth today was so inspiring," Butler said after leading his squad over Yao's, 42-39, concluded the program, which was launched in April in 45 different schools in rural areas around Sichuan.
"It tells me how much of a joy it is for them to be here. I felt the same way -the feeling was mutual."
Butler, a 10-year pro who takes part in charitable efforts in the United States, wanted to do more than just teach basketball.
"The thing that I always want to encourage the kids is to do the three Ds - determination, dedication and discipline," he said. "That's my foundation that got me through a lot of adversity in life."
NBA China CEO David Shoemaker credited Butler for making the trip.
"He showed the kids how enthusiasm for basketball can translate into good lessons in life," Shoemaker said.
The event was just the beginning of a comprehensive partnership between NBA China and Yao Ming to develop youth basketball, promote cultural exchange and conduct charity campaigns through fan-interactive events, clinics and NBA star tours.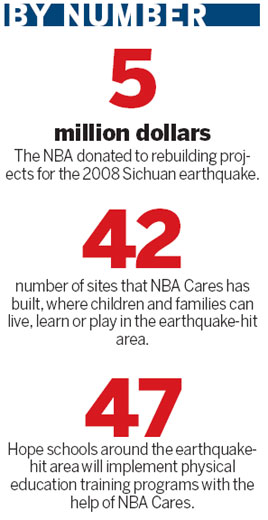 The two sides will also work together with relevant sports authorities to develop a high-school coaches training system and a training center in Shanghai for amateur and pro players of a wide range of ages.
"Our partnership with Yao extends our long-term commitment to charitable activities. I believe it will help us do more of these kinds of things here this week," Shoemaker said.
"I've been overseeing NBA China for about 15 months. Today is my most favorite day in my tenure. Nothing gives me more satisfaction than seeing the smiles on the children's faces here in Sichuan."
Since the devastating earthquake that hit Sichuan in 2008, the NBA has donated more than $5 million to rebuilding projects.
NBA Cares has committed to refurbishing 14 basketball courts, building two Project Hope schools, and implementing physical education training programs across 47 Hope schools around the area.
It has also built 42 sites where children and families can live, learn or play in eight different cities throughout the country and supported community outreach initiatives ranging from education to health and wellness.
"Social responsibility is the core of the NBA. It (is of the utmost) concern to our commissioner David Stern, to the 30 teams and every player," Shoemaker said.
Zhang Jianbin, a Mount Qingcheng High School student, said NBA Cares helped him realize a dream when Butler demonstrated a lay-up for him at the Friday clinic.
"I am a big fan of NBA and I have watched him a lot on TV," the 17-year-old said. "Thanks to the clinic, I had the chance to stand side-by-side with an NBA star and learn from him. He's been so nice to us and I feel blessed."
A bigger cast of players will be in China this fall, when the Clippers and Miami Heat come to play preseason games in Beijing and Shanghai on Oct 11 and 14, respectively.
It will be the fifth edition of the NBA China Games since 2004 and the first time a defending champion squad will come.
"We are very excited that we will have seven All Stars between the Heat and Clippers," Shoemaker said. "I will certainly argue it's the best China Games matchup we ever had. It will further drive interest in basketball.
"We have absolutely done a series charity of activities alongside the China Games since 2004. We will have similar plans for this year's games as well."
sunxiaochen@chinadaily.com.cn
(China Daily 08/27/2012 page24)