Bright lights, big city, small businesses, happy owners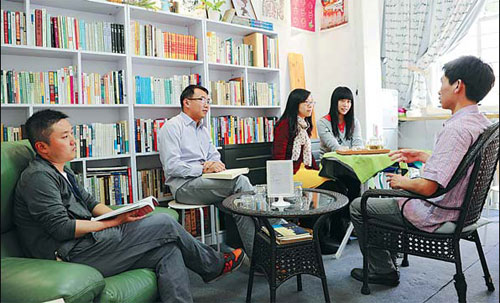 Lei Wanfeng (right) talks with visitors to his library in Shanghai. Lei, 27, is from Xi'an, capital city of Northwest China's Shaanxi province. He is among many young people starting their own micro businesses in Shanghai. Lai Xinlin / For China Daily
You will soon be convinced that this is a city full of ideas if you take a walk along central Shanghai's small streets. Shops selling independently designed clothes, antique furniture or quirky toys are lining up and ready to surprise.
People here are actively turning their inspiration into business. But, you may ask, in a city with the most expensive land price in China, can they make money?
Ke Ruiping, owner of a ceramics shop, spent almost four years and got her answer.
"I used to feel confused and baffled at the beginning when I opened this shop. But now I believe this is what I can do for a life," she said.
Born in Jingdezhen, a "porcelain capital" in East China's Jiangxi province, renowned for producing top quality porcelain for almost 2,000 years, Ke said she has had a deep connection with fine china objects since she was little.
"I was always crazy about them. When I was a small girl, I spent almost all my summer and winter vacations in the workshops, watching the craftsmen making bottles or bowls," said Ke. She was not talented in making porcelain herself but it did not stop her admiring the art of earth and fire.
Ke studied accounting and law during college. After graduation, she became a ceramics lecturer for a private museum, then an agent for porcelain artists.
In 2008 she started her own company and became an independent porcelain agent.
"I always keep in touch with the aunties and uncles I know in porcelain workshops back in Jingdezhen. Many of them became famous in this field after years. It works easily for me to be their agent," she said.
Ke decided to open a store in 2010, which she called Yacixuan, or "Elegant Porcelain".
However, things did not go as she expected.
"I was targeting the high-end customers - which means a porcelain painting would cost you more than 100,000 yuan ($15,699). And I designed my shop as a place for negotiations over big deals," Ke said.
However, there was a shortage of "high-end" customers willing to visit and part with their money.
Ke's shop is located in central Shanghai's Jiang'an Villa, which is now a shikumen complex of cafes and small shops, surrounded by shopping malls and office buildings, a haven for white collar workers to relax after work and at weekends.
"Many young ladies walked in and at once said: 'Wow, it must be too expensive for us', and left. I did not make many deals in the first several months," said Ke.
But the rent is high. She was facing a severe cash-flow problem by the year-end and was even thinking about closing up the store, when, out of the blue, she received an order to make porcelain gifts in late 2010.
"The shop was saved, luckily, but temporarily. I started to thinking about changing its market positioning," Ke said. She struggled and made a decision to change the style of the shop, to target the middle-income group, who are frequent visitors to her shop, but could not afford high-end works.
"I said to myself I need to start being down-to-earth. What's more, making art more close to the grassroots is not a bad idea at all," she said.
Ke's connection with Jingdezhen and experience in this field once again proved to be helpful. She found three aspiring artists in Jingdezhen she liked and signed them up as her exclusive porcelain designers. She also set up her own workshop and kiln in Jingdezhen.
Now in her shop almost all of the products are designed by her and the artists, made in Jingdezhen with top quality local porcelain clay and marked with their own logo "Yaci". They are priced from below 100 yuan to 500 yuan.
"I try to make the price acceptable for those young people who love art and who want to have fine tableware or decorations in their home. At the same time I want to provide a feeling of individuality through our independent design," she said.
These fine bowls, cups and vases are very popular among young people and work perfect as artistic daily necessities or gifts for friends.
The transition is so successful that Ke's younger sister also quit her job and joined her. They together opened a second shop near the Bund recently.
"I feel the right location is more important than anything, actually. I am still adjusting my strategy," said Ke. She has tried many things: high-end work, online promotion, even selling tea in the shop, but nothing works better than focusing on medium-priced, self-designed porcelain pieces.
She has an ambition to build a strong brand for her porcelain. Yes, china is famous, but there is no world famous brand. I hope "Yaci" will become one in the future, she said.
Compared with Ke, the transition for Chen Yanping seems more challenging.
After managing her own company in the IT industry for 10 years, she created a design brand called "Pusu", referring to plain unpolished jade, with her partner Chen Yanfei, who was art director for Elle Decoration and has been studying the furniture of the Song (960-1279), Ming (1368-1644) and Qing (1644-1911) dynasties for more than 10 years.
"Western style furniture and dcor has dominated the Chinese market for years, ever since we adopted the modern concept of interior dcor. But more people are interested in the traditional Chinese style nowadays," Chen Yanping said.
In their shop, located on tranquil Changshu road, in the heart of Shanghai, they display how they work the ancient elements of China's traditional furniture into modern living. All of the furniture pieces are put together with Chinese traditional mortise and tenon joints, rather than nails. The original color and texture of the wood is kept. Painting and glues are avoided.
Pusu's shop has become a club for lovers of traditional Chinese culture. As well as selling furniture they also hold lectures and salon talks, which Chen called "a pivotal measure to nurture the market".
In less than one year after they opened the shop, Pusu has already started making a profit. They opened a new department called Space Design, which is attracting more and more business including residential space, business space, entertaining and resort space design.
"I believe the right direction is more important than anything," said Zhou Xinhua, co-founder of a website called China 30s, which aims to gather people born around 1980 who are now struggling to support their own families as well as their parents.
"Many of us want to open our own shops based on our own ideas," Zhou said. But the precondition is that you must have a clear and specific market niche, possess a unique resource in this field and can financially support yourself, she said.
"In the last four years, most of what I did looks like wasting time. But you never know which of it may work. It seems I have rich resources now, but you won't believe how much effort I put into it and how many times I failed," said Xue Shuai, chief executive officer of renwutaowang.com, who set up a transaction platform for household services this year.
xieyu@chinadaily.com.cn
(China Daily 08/27/2012 page13)
Today's Top News
Editor's picks
Most Viewed