She isn't playing - she's skiing
Updated: 2012-08-23 08:04
By Mu Qian (China Daily)
| | | | | | | | | |
| --- | --- | --- | --- | --- | --- | --- | --- | --- |
|   | | Print | | Mail | | Large Medium  Small | 分享按钮 | 0 |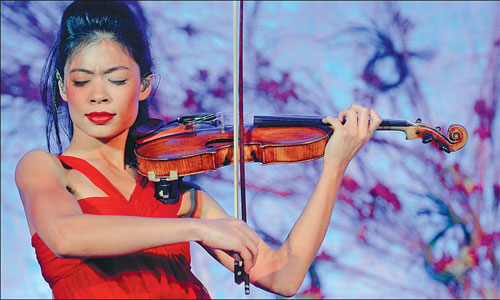 Recording artist Vanessa-Mae performs at the Mandarin Oriental in Las Vegas in 2009. She is trying to make her Olympic debut at the Winter Games in 2014. She isn't expecting to win a medal. "You can't really start in your 30s and win a gold," she said. Ethan Miller / Agence France-Presse
World-class violinist Vanessa-Mae is aiming for a spot on the Thai Olympic downhill team, Mu Qian reports from London.
Violinist Vanessa-Mae has performed in Russia many times, but now she is preparing for a 2014 performance that will be very unlike the others.
At 33, the violinist announced a new career she plans to compete in the Sochi 2014 Winter Olympic Games as a downhill skier, representing Thailand.
"As you age and mature you realize that you have one life and you have one dream, and that's kind of a wake-up call," she said. "Now I'm going to try a new passion and go for it."
Born in Singapore to a Thai father and Chinese mother, Vanessa-Mae grew up in London and became famous as a violin prodigy.
She made her international professional debut at the age of 10 at the Schleswig-Holstein Musik Festival in Germany. At 13, she was the youngest soloist to record both the Beethoven and Tchaikovsky violin concertos, according to Guinness World Records.
On entering adolescence, Vanessa-Mae broke away from her traditional classical influences and became known for her flashy, sexy style, appearing in music videos in stylish outfits.
Her first pop-style album, The Violin Player, was released in 1995. She appeared on the 1997 Janet Jackson album The Velvet Rope playing a violin solo on the song Velvet Rope.
In 2006, Vanessa-Mae was ranked as the wealthiest young entertainer under 30 in the UK on the Sunday Times Rich List.
"I've done so much in music, and there's still so much more to do in life," she said. "Losing time is a risk, but sometimes it's necessary."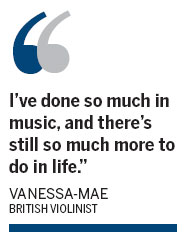 Vanessa-Mae started skiing as a hobby when she was 4 years old. Since she began to tour and release albums at a young age, she didn't have time to develop the hobby until three years ago, when she decided she could begin taking life at a more relaxed pace.
"Everybody thought I was crazy, but it's something that I want to get serious with," she said. "I've only got one and half years before the Sochi 2014 Winter Olympics begin, so I'm working hard on it."
Vanessa-Mae has lived in the Swiss alpine resort Zermatt since 2009 and began training seriously this summer. Now she wakes up every day at 5 am and hits the cable car at 6:30. She practices till 1 pm before taking a break, when she can do a bit of violin playing.
In the afternoon she has physical training for an hour or two, then does video analysis, comparing herself to great skiers. Vanessa-Mae said she's going to train more when winter comes, and plans to train in South America next year.
"My expectation is to qualify for and participate in the Olympic Games," she said. "I'm not going to have a podium in this lifetime, because people have been training since they were 8 years old. You can't really start in your 30s and win a gold."
Vanessa-Mae said she decided to represent Thailand because her father is Thai, and she hasn't celebrated the Thai side of her life.
To date, only one person, Prawat Nagvajara, has represented Thailand at the Winter Olympics.
"Hopefully I'll inspire the Thai people about winter sports," she said. "In the future, Thai children may beg their parents to take them skiing and they'll have the opportunity, although they may have to move to another country to do that."
Given her tight schedule, Vanessa-Mae does not have much time for music now, and says she'll make a new album after 2014.
But she said she hopes to combine music and skiing at the 2014 Winter Games.
"It would be so cool if you can wave your flag, jump on the stage to play the violin, and ski two days later," she said. "Why not?"
Contact the writer at muqian@chinadaily.com.cn.
(China Daily 08/23/2012 page22)