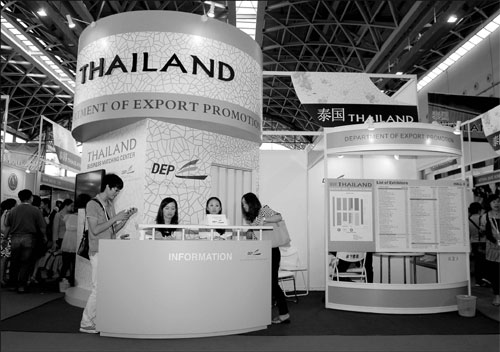 Thailand's stand at the Eighth China-ASEAN Expo held in Nanning, capital of Guangxi Zhuang autonomous region, in 2011. By the end of last year, China had invested a cumulative $13.5 billion in ASEAN, according to David Wong, deputy chief executive at the Bank of China Hong Kong. Peng Huan / For China Daily
Kai Arief Selomulya, head of research and development at the National Board of Indonesian Pharmaceutical Association in Jakarta, has never seen Chinese investors as interested in Indonesia and neighboring countries as they are now.
Less than two weeks earlier, two Chinese companies approached him and his association to discuss investment opportunities in Indonesia. It was both out of interest in the domestic market and as a gateway to the nine other members of the Association of Southeast Asian Nations.
"We had an exhibition with Chinese and Indian pharmaceutical companies," said Kai, whose job gives him front-row access to the development of the industry locally and regionally.
"Many of them are interested (in investing). There are two (Chinese) companies that are very serious about coming in. When we talk about ASEAN, Indonesia is the country they want to be in."
After two decades of focusing on trade, Chinese companies are now increasingly interested in investing in ASEAN. The turning point was in 2010, when the China-ASEAN Free Trade Agreement took effect.
The pact created the third-largest free trade area in the world after the European Union and the North America Free Trade Area - Canada, the United States and Mexico. Its emergence prompted China's Vice-Minister of Commerce Gao Hucheng to note that "investment between both sides has entered a stage of more rapid expansion".
ASEAN comprises Brunei, Cambodia, Indonesia, Laos, Malaysia, Myanmar, the Philippines, Singapore, Thailand and Vietnam - 10 countries with 584 million people and a combined GDP of about $6 trillion in 2010, about the same as China's but with half the population.
"Relative to trade, investment has been relatively low," said Frederick Gibson, an associate economist at Moody's Analytics who focuses on the region. "But the agreement in 2010 paved the way (for growth)."
A number of initiatives are facilitating mutual investment in China and ASEAN countries.

The China Council for the Promotion of International Trade has an information platform on investment in ASEAN countries, including awards. The ninth edition of the China-ASEAN Expo, an annual event, will be held in Nanning, capital of South China's Guangxi Zhuang autonomous region, in September, highlighting the growing investment links between the two.
By the end of 2010, more than 1,000 Chinese companies had invested about $2.9 billion in Indonesia, a jump of 31.7 percent from 2009. Chinese companies are also looking for acquisitions and joint ventures in sectors such as oil, gas and coal.
Chinese telecommunications giant Huawei Technologies Co Ltd first started setting up subsidiaries and branches in ASEAN countries in 1999. By 2005, it was controlling about 20 percent of the mobile network market. In 2011, the company announced plans to lay underwater cables between Malaysia and Indonesia to provide more communication bandwidth.
It has been particularly successful in Indonesia, though, according to Huawei Indonesia Deputy Director Dani K. Ristandi, it wasn't easy entering the Indonesian market. Despite initial difficulties, the company notched up a sales revenue of $1 billion in 2010.
In Malaysia, Chinese companies are investing in high value-added petrochemical manufacturing, underlining the push toward more qualitative investment in the region, and not just resources extraction or cheap manufacturing. Eight Chinese companies are listed on the stock exchange in Kuala Lumpur, the largest of them being China Stationery, which went public last November.
Initial success
By the end of 2010, Chinese companies had invested $250 million in Malaysia. Last year, China Huadian Engineering formed a joint venture with Malaysian power generation company Janakuasa to build a $1.5 billion coal-fired power plant in Vietnam. China's ZTE Corp, another telecom giant, is building infrastructure in the country while Aluminum Corp of China is involved in a $1 billion smelter in Malaysia's eastern Sarawak State.
In 2008, Chinese automaker Chery set up its eighth overseas factory in Malaysia. At its inauguration, Chery President Yin Tongyao noted that Malaysia is the largest passenger car market in ASEAN and also an important link to other ASEAN countries.
"We are planning to speed up building more overseas factories in the coming two years," Yin said.
Outside Malaysia, Chery has a factory in Indonesia and in May, announced plans to set up another with a local partner in Vietnam, where Great Wall Motors and Chongqing Lifan already have assembly plants.
Chinese companies are also investing widely in Singapore. As one of the largest financial centers in the world, Singapore has attracted more than $5 billion in investment from China with listings from more than 150 Chinese companies.
"Singapore is an ideal gateway for companies keen to develop clean energy solutions tailored for Asia," said Tan Jiansheng, senior vice-president of China Guangdong Nuclear Power Holding Co Ltd, when construction of its $33.6 million biomass-solar power plant began there in May.
"The facility will aim to meet the energy needs of Singapore as part of our ongoing effort to provide clean energy," Tan said.
In Myanmar, China is responsible for about 35 percent of all investment, about $14 billion to date. This includes a 771-kilometer pipeline for oil and gas from Kyaukphyu in western Myanmar to China's Yunnan province, scheduled for completion by 2013. All three Chinese oil giants, China National Petroleum Corp, China Petrochemical Corp and China National Offshore Oil Corp, have operations in the country.
The recent opening-up of Myanmar is attracting a wide range of investment - from multinationals to more local companies trying to expand their operations. In May, a trade delegation from Liuzhou, the Guangxi Zhuang autonomous region, visited Yangon. Two Chinese companies, construction equipment maker Liugong Group and Dongfeng Liuzhou Motors, already have operations in Myanmar.
"We hope businesses in Liuzhou will continue to expand their markets in ASEAN countries, build up the city's brands and revitalize the nation's industry," Jin Honggen, an economic and commercial counselor of the Chinese embassy in Yangon, told China Daily.
Chinese companies are building infrastructure in Cambodia's Stung Treng Province. Chinese hydropower, engineering and construction company Sinohydro Corp has completed a 103-megawatt hydropower project in Kampot Province at a cost of $200 million.
In Vietnam, around 2,000 Chinese companies have invested more than $3 billion, according to that country's foreign ministry. Aluminum Corporation of China has invested in Vietnam's bauxite mines while another company, Tung Fang, spent $60 million on a shoe factory. In 2007, Tien Giang Investment and Management Company of China launched a $100 million project to develop industrial zones.
In Laos, China CAMC Engineering Co Ltd is involved in a joint venture to launch Vientaine New World, a major real estate project in the capital.
Lower labor costs
In the Philippines, Cambodia and Laos, the lower cost of labor is attracting more manufacturing facilities by Chinese companies. This push is encouraged by the rising cost of labor in China, the emergence of viable domestic consumer markets in ASEAN countries and the fact that, according to Moody's Gibson, Chinese exporters have "a lot of cash that they don't want to repatriate, so it is used for investment".
"The longer-term trend is for investment to keep growing, especially with the geopolitical environment," added Gibson.
Li Yao, chief executive officer of the China-ASEAN Investment Cooperation Fund, said it is not always easy to structure a good deal in the region. But the fund, which has already raised the first $1 billion of the $10 billion it will invest, is actively searching for projects.
The private equity fund, which will focus on investments in infrastructure, energy and natural resources in the ASEAN region and China, comprises both Chinese and foreign funds, including the World Bank's International Finance Corporation, which joined as a cornerstone investor in May 2011.
"The region is punctuated by a wide range of economic systems and different levels of economic development," said Li. "At one end you have developed economies such as Singapore and Brunei. At the other end of the spectrum are emerging economies such as Myanmar, Cambodia and Laos.
"This presents a tremendous opportunity as targeting the ASEAN region as a whole allows us to effectively diversify our investments. We are complementary. China and (ASEAN) countries can support each other."
The increasingly visible presence of Chinese investors in ASEAN marks a significant change. The growth of domestic markets in ASEAN and access to a wide range of resources is attracting more Chinese investment, particularly as the costs of manufacturing domestically go up.
By the end of 2011, China had invested a cumulative $13.5 billion in ASEAN. Its direct investment in ASEAN grew by almost 50 percent between 2002 and 2010, David Wong, deputy chief executive at the Bank of China Hong Kong, said at the Asian Financial Forum last December.
China is now the region's largest trading partner, buying and selling a wide range of goods and services.
Nevertheless, the growth of China's investments in ASEAN is slow and low, less than 5 percent of the $322 billion it has invested in other overseas destinations. In 2010, for instance, Chinese investment in ASEAN grew 12 percent, compared with 81 percent growth in the United States, 57 percent in Europe and 59 percent in Africa, according to the Ministry of Commerce.
Speaking at the Eighth China-ASEAN Expo late last year, Vice-Minister of Commerce Gao said bilateral investment between China and ASEAN had hit the $90 billion mark and growth was increasing after the establishment of the free trade area between China and ASEAN.
Significantly, Gao added that China plans to build economic and trade cooperation zones in all ASEAN countries, zones that could act as a platform for Chinese investment in the region.
alfredromann@gmail.com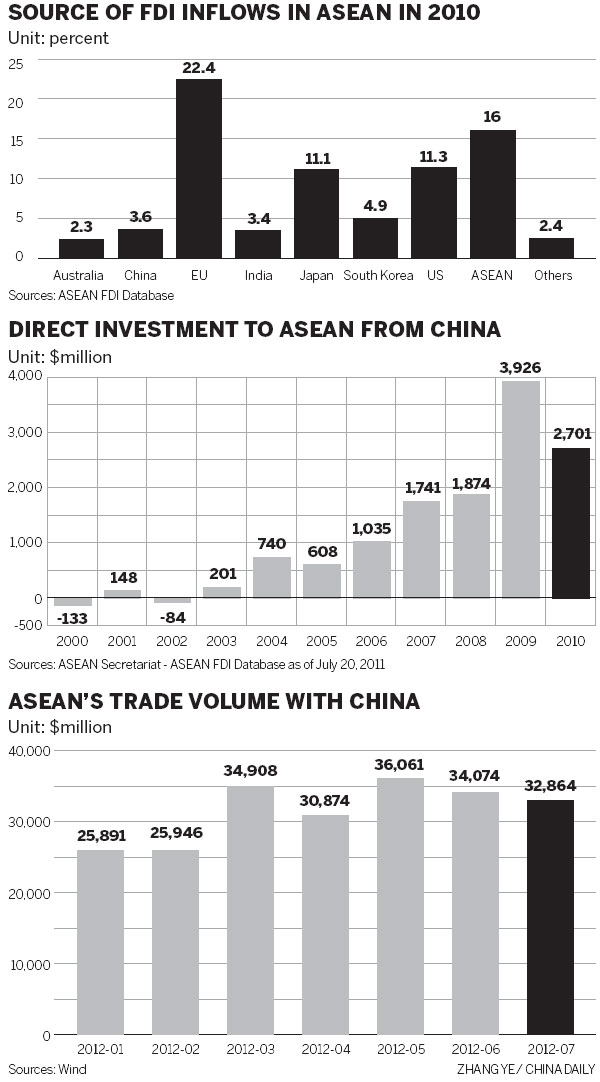 (China Daily 08/21/2012 page13)