Counting on success in poverty fight
Updated: 2012-08-10 08:05
By Qu Yingpu, Zhao Huanxin and He Dan (China Daily)
| | | | | | | | | |
| --- | --- | --- | --- | --- | --- | --- | --- | --- |
|   | | Print | | Mail | | Large Medium  Small | 分享按钮 | 0 |

Fan Xiaojian has a head for numbers and he counts on them to tell a story that adds up to success and continuing challenges.
The top official in charge of poverty reduction in China has figures on hand to depict the other side of the world's second-largest economy.
"I've always found numbers intriguing," said Fan, an economics graduate who has led the State Council's anti-poverty drive since 2007. "Numbers do not meander; they tell stories directly."
Fan, 59, can inform reporters straightaway that China relocated 7.7 million people from impoverished areas in the century's first decade.
That figure almost matches the combined population of the two special administrative regions of Hong Kong and Macao.
He can also sum up the anti-poverty achievements over the past three decades by stating that 250 million rural residents have escaped poverty. That number is roughly equal to Indonesia's population.
But of more immediate concern, he can use numbers to tell the story of the consequences of the global downturn on measures to tackle poverty.
The financial crisis that started in 2008 has condemned 100 million more people to destitution globally, he said, quoting World Bank statistics.
It has also taken a toll on domestic anti-poverty efforts.
About 3 million people were taken out of poverty in 2008, a figure similar to the 2000 level. Impressive as this is, it still represents a setback.
"Between 2004 and 2007, we lifted a whopping 10.89 million out of poverty annually," Fan, chief of the State Council's Poverty Alleviation Leading Group Office, told China Daily.
The global economic contraction means that factories in coastal regions feel the brunt of the slowdown and many workers have to return to the interior.
Measures, especially to help farmers, have been introduced.
Special poverty reduction funds, nearly 33.2 billion yuan ($5.2 billion), have been allocated this year, Fan said, adding that this represents an increase of 22 percent on last year.
Despite impressive economic growth, pockets of poverty still remain, particularly in the 11 mountainous regions.
These include the Liupan Mountains in the Ningxia Hui autonomous region and the Qinling-Bashan mountains. They are isolated both geographically and economically, according to Fan.
"There are 505 counties in these regions", and income levels are well below average.
The 11 regions, together with parts of Sichuan, Yunnan, Gansu and Qinghai provinces, and the southern Xinjiang Uygur autonomous region, will be the major focus for poverty alleviation efforts in the next decade, he said.
About 12.7 percent of the rural population, or 122 million people, remain mired in poverty, he said.
This contrasts with earlier reports that claimed there were 128 million rural people living in poverty, earning less than 2,300 yuan annually, the new poverty threshold.
"The number contracted because the annual income of farmers rose in 2011, based on the latest National Bureau of Statistics figures.
"That's why 122 million, or 12.7 percent, instead of 13.4 percent of the registered rural population, are classified poor," he said.
There has long been speculation that the poverty threshold was far below international standards.
Fan said that, to the best of his knowledge, there are 88 developing countries that have set their own national poverty thresholds and 35 of these have readjusted it over the past two decades.
Only a few of them have defined their poverty threshold in line with the "international standard", he added.
"A World Bank economist told me that, based on the Purchasing Power Parity level in 2005, China's new poverty threshold of 2,300 yuan a year equals $1.80 a day," Fan said. "That is slightly higher than the World Bank standard of $1.25 set in 2008."
Getting above the threshold can be difficult but staying above it can be hard.
Roughly two-thirds of rural residents fall back into poverty the same year they managed to rise above the national poverty line, he said.
In addition, the country has to deal with the yawning wealth gap between urban and rural areas. The average per capita income of China's urbanites was 3.23 times that of rural dwellers in 2010, he said.
China wants to achieve the goal of providing adequate food and clothing for all its citizens as well as ensuring access to compulsory education, basic medical services and housing by 2020.
That goal is expressed with numbers that are easily understood: "two worries-free" (from food and clothing) and "three guarantees" (education, medicare and housing).
Contact the writer at quyingpu@chinadaily.com.cn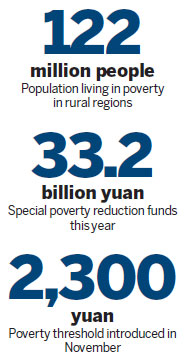 (China Daily 08/10/2012 page1)