What's news
Updated: 2012-08-08 08:07
(China Daily)
| | | | | | | | | |
| --- | --- | --- | --- | --- | --- | --- | --- | --- |
|   | | Print | | Mail | | Large Medium  Small | 分享按钮 | 0 |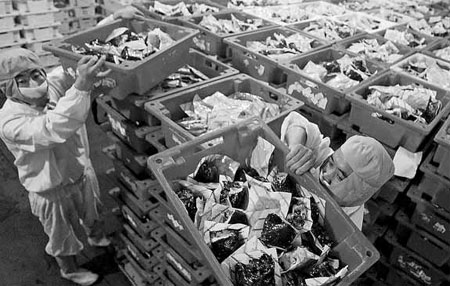 Workers prepare sauced pig knuckles at a workshop run by Tianfu, a national time-honored brand, at 3 am on Tuesday, in Shunyi county, Beijing. The day marked the beginning of autumn according to the Chinese lunar calendar, and locals consider sauced pig knuckles to be a preferable food for the season. The company prepared 30 tons of pig knuckle in sauce this year, 20 percent more than last year. Cao Boyuan / for China Daily
China Vanke profit rises 25% as price cuts boost sales
China Vanke Co, the biggest developer by market value traded on the nation's exchanges, said its first-half profit climbed 25 percent as the company cut prices to boost sales amid government controls.
Net income increased to 3.73 billion yuan ($585 million), or 0.34 yuan a share, from 2.98 billion yuan, or 0.27 yuan a share, a year earlier, the company said in a Shenzhen Stock Exchange filing on Monday. Revenue gained 54 percent to 30.72 billion yuan.
"Big companies such as Vanke tend to do better in downturns because they're better at marketing," said Jack Gong, a Hong Kong-based property analyst at Jefferies Group Inc, before the earnings announcement. "The general outlook for the property market is still tightening with some room for fine-tuning of policies."
Nissan Motor's sales in China fall for first time in 6 months
Nissan Motor Co, Japan's second-largest carmaker, said its sales in China last month declined for the first time since January, as the slowing economy damps demand in the world's largest vehicle market.
Deliveries fell 2 percent to 98,100 vehicles in July, the Yokohama, Japan-based company said in an e-mailed statement on Tuesday. It sold 776,100 vehicles in the first seven months this year, or 12 percent more than the year-earlier period.
Nissan's monthly sales declined amid China's economic expansion slowing to a three-year low of 7.6 percent in the second quarter. Stiffer competition in China this year has led to discounting and an increase in inventory.
China construction activity may pick up in second half
Belimo Holding AG, a supplier of motors that control air-conditioning units, says it sees recovering construction activity in China after a government lending reduction hampered investments in the first half.
Beat Trutmann, chief financial officer of the Hinwil, Switzerland-based company, said in an telephone interview on Tuesday that large construction projects have been resumed by the Chinese government.
"You don't know of the smaller orders, but you know about the bigger projects like infrastructure or airports," he said.
Belimo's outlook mirrors positive statements from ABB Ltd, which supplies low-voltage equipment like switches and circuit-breakers to China's construction market. Joe Hogan, ABB CEO said on July 26 that he saw "some strengthening" in China's construction market and that he hoped it would extend into the second half.
ICBC said to market first offshore bond in Hong Kong
Industrial & Commercial Bank of China Ltd started marketing its first sale of offshore bonds in Hong Kong, according to a person familiar with the matter.
China's biggest lender by market value is offering the three-year Dim Sum debt at a yield of around 3.15 percent. It is the first time the mainland bank rather than one of its units has directly sold the securities, the person said, asking not to be identified because the matter is private.
The country's economic planning agency, the National Development & Reform Commission, approved a combined 25 billion yuan ($3.93 billion) of Dim Sum issuance in January by 10 banks.
Bank of China Ltd, the fourth-largest lender by market capitalization, issued 1 billion yuan of three-year notes in Hong Kong in July at a yield of 3.1 percent, its first Dim Sum bond since September 2010.
China overtakes South Africa on ferrochrome output
China overtook South Africa as the largest ferrochrome producer this year, according to Merafe Resources Ltd, which has a joint venture with Xstrata Plc.
China accounted for 33 percent of the 4.8 million metric tons produced in the first half, while South Africa produced 32 percent, Johannesburg-based Merafe said on Tuesday in a statement, citing data compiled by Heinz H Pariser Alloy Metals & Steel Market Research.
South Africa's market share fell as Eskom Holdings SOC Ltd, supplier of about 95 percent of the country's power, took back electricity allocated to ferrochrome producers in return for payments to prevent a repeat of rolling blackouts in 2008.
South Africa shipped about 2.1 million tons of chrome ore to Chinese ferrochrome production plants in the first half, Merafe said, citing Chinese customs data. China is the world's largest producer of stainless steel made with ferrochrome.
Isuzu, Jiangling Motors form vehicle, engine ventures
Isuzu Motors Ltd and Jiangling Motors Corp will form ventures to produce light commercial vehicles and engines in Jiangxi province as the demand for pickup trucks increases in China.
Isuzu expects to obtain government approvals in March and begin production in early 2014, according to a statement on its website on Tuesday. The Tokyo-based truckmaker expects to build and sell about 100,000 vehicles a year.
In the year ending on March 2013, Isuzu is targeting to boost its global deliveries of light commercial vehicles by 32 percent to 393,400 units, while it expects worldwide shipments of commercial vehicles to increase by 11 percent.
Market share of iPad spikes to 72.6% in China
The iPad's market share in China's tablet-PC sector climbed to more than 72.6 percent in the second quarter of 2012, according to a report released on Monday by the market researcher Analysys International. The figure marked a 20.06 percent increase from the first quarter, the report said.
After the iPad, the tablet PC from Lenovo Group Ltd, the world's second-largest PC maker, held about 8.38 percent of the market share.
Meanwhile, Samsung Group's tablet PC saw a 7.69 percent year-on-year decrease in its market share, which stood at 3.59 percent in the second quarter of 2012. Apple Inc introduced the new generation of iPads in the Chinese market in March, but customers were unable to buy them until the second quarter.
Local governments get OK to sell securities
China has given three local governments' financing vehicles approval to sell asset-backed securities, the regulator of the country's interbank bond market said.
Shanghai Pudong Road & Bridge Construction Co, Ningbo Urban Construction Investment Holding Co and Nanjing Public Holdings Group Co registered on Tuesday to sell the securities, according to notices on the website of the National Association of Financial Market Institutional Investors. The companies must sell the first batches of the debt within six months of their registration, the regulator said.
China Life issues first-half profit warning
China Life Insurance Co, the world's largest insurance provider by market value, has issued a profit warning for the first half of 2012, citing volatile equity markets and a drop in its asset value.
The company, due to publish its interim results on Aug 28, did not specify the extent of the decline, but said that it will not be worse than the 29.4 percent fall in profits it announced in the first quarter.
In the first quarter, China Life reported total assets of 1.66 trillion yuan ($266 billion), a 4.3 percent year-on-year increase. Net profits were 5.63 billion yuan.
The company said low-margin products, increased competition and new rules have stalled growth, and that volatile equity markets have squeezed profit margins.
Export growth easing in July, whole year goal hard to meet
Economists believe that China's export growth rate will be weaker in July than it was in the first half of the year, and the rest of the year will be difficult for foreign trade.
In the first half of the year, the country's exports increased 9.2 percent compared with the first half of 2011.
Li Jian, a researcher from the Chinese Academy of International Trade and Economic Cooperation, which is affiliated to the Ministry of Commerce, said that foreign trade in the second half of the year will not improve significantly, which means the 10 percent growth goal set earlier this year will be hard to achieve. The trade surplus is expected to further expand, but will remain within a "relatively reasonable scope", Li said.
SOEs should adjust investment, SASAC says
Central State-owned enterprises' investments that target scale expansion must be stopped, and the money should be used instead to improve technology, products and commercial models, the State-owned Assets Supervision and Administration Commission said.
SASAC, the government supervisor of 128 central SOEs, asked the companies to boost the management of their capital chain and cash flow. SOEs should also avoid the ripple effect that results from the shortage of funds in related industries, SASAC said.
In the first half of the year, central SOEs generated profits of 387 billion yuan ($61.18 billion), down 16.4 percent from a year earlier.
Project approval by the NDRC at peak rate
The National Development and Reform Commission, China's top planning agency, approved more than 200 investments projects every month in the last quarter after the government asked for additional efforts to maintain steady economic growth.
Zhang Changmao, an economics professor at the Party School of the Communist Party of China Central Committee, said that the faster approval was aimed at revitalizing the cooling economy.
"The approval process is likely to see a slowdown this year when the economy gets back on track," Zhang said. He added that more policies like cutting taxes and easing monetary policies are needed.
China Daily - Agencies
(China Daily 08/08/2012 page14)