Chinese banks face hurdles to refinancing demands
Updated: 2012-08-07 07:44
By Wu Yiyao in Shanghai (China Daily)
| | | | | | | | | |
| --- | --- | --- | --- | --- | --- | --- | --- | --- |
|   | | Print | | Mail | | Large Medium  Small | 分享按钮 | 0 |
Banks in China are facing mounting pressure to refinance as interest rate liberalization moves forward and regulators set higher risk management standards, a recent report said.
Although Chinese banks currently have sufficient capital, pressure to maintain cash flow and to refinance is increasing, according to a report by The Chinese Banker, a Beijing-based monthly publication that focuses on China's banking industry.
For many banks in China, the difference between assets and liabilities will expand in the near future because of stronger regulations and banks' growing difficulties with refinancing, the report said.
The differences for the five biggest banks in China - the Industrial and Commercial Bank of China Ltd, Agricultural Bank of China Ltd, Bank of China Ltd, China Construction Bank and Bank of Communications Co - will be equal to more than 30 billion yuan ($4.7 billion) by the end of this year, and will rise further in 2013, the report estimated.
The report based its estimation on statistics and annual reports provided by these banks, said Zhang Xiaochuan, spokeswoman for The Chinese Banker.
The difference for ICBC will rise from 60.4 billion yuan by the end of 2012 to 69.1 billion yuan in 2013, while that for the Agriculture Bank of China will go up from 63.5 billion yuan to 83.8 billion yuan.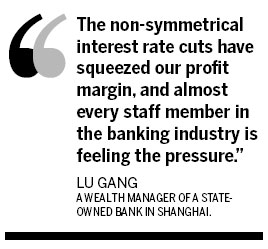 Bank of China's will reach 37.6 billion yuan by the end of 2012 and will double in 2013, reaching 78.7 billion yuan. China Construction bank will see its difference hit 35.4 billion yuan by the end of 2012, and rise to 39.9 billion yuan in 2013, while the Bank of Communications' gap will reach 47.8 billion yuan by the end of 2012, which will further expand to 68.7 billion yuan in 2013.
Banks now remain a major source of fund-raising in China's market, and commercial banks, especially the large ones, will continue to issue more loans, which will place increasing demands on capital, according to the report.
Most of the banks face stronger risk management requirements and more pressure to raise capital, the report said.
After two non-symmetrical interest rate cuts so far this year, the liberalization of interest rates has picked up, and so for many banks it is now more difficult to make a profit, said Luo Mengbo, head of the bank and director with Bank of Ningbo Co Ltd.
The People's Bank of China gave lenders permission in June to set deposit rates up to 10 percent higher than the benchmark rates in June. Small and medium-sized lenders, under pressure to attract capital, set their rates for deposits at the ceiling immediately after the announcement went into effect, while some State-owned banks were more conservative, setting their respective deposit rates at about 8 percent higher.
"The non-symmetrical interest rate cuts have squeezed our profit margin, and almost every staff member in the banking industry is feeling the pressure," said Lu Gang, a wealth manager of a State-owned bank in Shanghai.
At the same time, banks are looking for new ways to expand their business while keeping risks under control, Luo said.
New rules announced by the State Council in early June will set tougher capital criteria for lenders at the beginning of 2013.
The tougher standards, which are based on the Basel II and Basel III agreement set by the Basel Committee on Banking Supervision, will require what are deemed to be systemically important banks to have a capital adequacy ratio of 11.5 percent. For banks that are not systematically important, the ratio will be 10.5 percent. The deadline for meeting the requirements for banks in China is the end of 2018.
Banks need to adjust their capital strategy and push forward reforms of their business patterns to meet the requirements of regulators and make profits at the same time, said Luo.
The banking system in China will experience another expansive financial resulting, which is inevitable, said Liu Yuhui, a researcher at the Chinese Academy of Social Sciences.
wuyiyao@chinadaily.com.cn
(China Daily 08/07/2012 page14)