Local property markets under scrutiny
Updated: 2012-07-25 08:06
By Yu Ran in Shanghai and Li Wenfang in Guangzhou (China Daily)
| | | | | | | | | |
| --- | --- | --- | --- | --- | --- | --- | --- | --- |
|   | | Print | | Mail | | Large Medium  Small | 分享按钮 | 0 |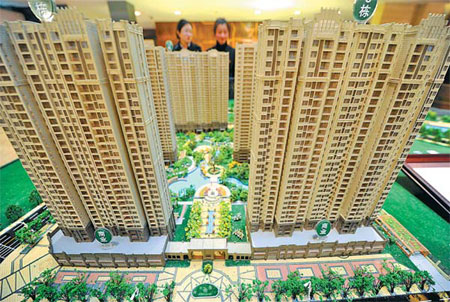 Potential homebuyers look at a model of a property development in Nanjing, Jiangsu province. The central government has stated again that property policies should be fully implemented. Han yuqing / Xinhua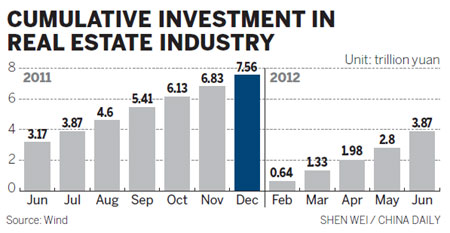 State Council sends inspectors to check policy implementation
The State Council said on Tuesday that it will send eight teams later this month to inspect the implementation of property policies as local authorities come up with various ways to relax property curbs.
The move aims to "further ensure that the property regulation measures are implemented, speculative housing demand is curbed, and to strengthen the effects of the property regulation measures", the State Council said in a statement.
The teams will go to 16 municipalities and provinces, to inspect how well policies on housing purchase limits and differential credit have been carried out, and check the supply and management of residential land and the implementation of tax policies, it said.
The municipalities and provinces include Beijing, Tianjin, Shanghai, Chongqing, Hebei, Jiangsu, Zhejiang and Fujian, according to the statement.
The inspection teams will urge regions where the property regulation measures are not strictly followed to rectify the situation, it said.
The move came just one day after Nanjing, the capital city of East China's Jiangsu province, proposed to promote the property market by offering favorable housing provident fund loans to first-time homebuyers and subsidizing purchases by "qualified professionals".
The city will also allocate as much as 2 billion yuan ($313 million) in provident fund loans to affordable housing construction by the end of the year, it said.
Yin Xiaobo, director of the Jiangsu branch of China Realty Research Center, said the policy could be seen as a way to ease the restrictions in the city's property market.
"It's a signal that local governments are trying to further boost the property market," Eric Zhang, a Beijing-based property analyst at China International Capital Co, the country's biggest investment bank, wrote in a note to clients on Monday.
"No major relaxation of the curbs could be accepted at the moment by the central government for now, so Nanjing has chosen to support first-time buyers and affordable housing."
Xue Jianxiong, an analyst from China Real Estate Information Corp, a realty information services provider, said the attention the central government is paying to the property market will obviously renew confidence among consumers.
Many cities have attempted to ease property curbs imposed by the central government since the second half of 2011 in response to diminishing revenues from land sales.
The measures have included subsidizing purchases of refurbished homes and allowing first-time buyers to borrow more from the public housing fund.
Apart from Nanjing, many other major cities, including Beijing, Shanghai and Tianjin, have introduced measures to ease property curbs since the end of 2011.
Beijing has offered certain tax incentives since the end of last year for purchasers of new homes.
The central government tightened curbs on the property sector in 2010, with house prices beyond the reach of average wage earners.
The government issued a series of restrictions to control house purchases in several cities by requiring higher down payments and introducing property taxes.
Although sales revenues in the property market have been affected severely by the restrictions, it has recovered in recent months due to the measures introduced in a number of areas.
According to China Index Academy, a realty information service provider, 20 cities it monitors in China experienced an obvious increase in sales revenue for new homes between July 16 and July 22.
A total of 75 deals were completed in those 20 cities, up more than 30 percent compared to the previous week.
Sales of commercial residential properties in Guangdong province started to recover in the second quarter of this year, increasing month-by-month both in terms of floor space and revenue, according to a report released by the Guangdong Real Estate Association on Tuesday.
Developers have been offering bargains to boost sales, also due to easing monetary and credit policies, according to the report.
The property measure increased 1 percent on Tuesday morning, the biggest gain among five industry groups on the benchmark index.
China Vanke Co, the biggest listed developer on mainland exchanges, climbed 1.3 percent to 9.33 yuan in Shenzhen.
"Our company is planning to launch two new projects in the second half of the year as we believe that the property market is recovering quickly with more demand from potential purchasers," said Hu Bin, president of Zhongzhou International Holding Group, a real estate developer in Shanghai.
Bad loan risks
Chinese regulators are vigilant against potential risks regarding bank loans to the property sector following government curbs that have sapped the market and stripped developers of cash, local media reported on Tuesday.
The authorities are concerned about the influence of property market changes on bank assets and will rigorously control risks in real estate financing, Shanghai Securities News quoted an unidentified financial regulator as saying.
About half of China's major property companies have seen their debt ratios exceed 60 percent and most listed developers have a negative operating cash flow, which may increase risks in bank lending for property development and other related industries, the official noted.
Some developers have also raised funds through real estate private equity funds and real estate investment trusts, as well as from overseas markets and the domestic private lending market, and will face significant repayment pressures.
However, the official told the newspaper that the country's banking regulator is unlikely to suspend property-related loans or real estate investment trust operations.
China saw outstanding loans for property development and mortgages rise 10.3 percent year-on-year to 11.32 trillion yuan at the end of June, according to central bank data.
The growth was 0.2 percentage points higher than in the previous quarter. It marked the first quarter of growth after eight consecutive quarters of declines, which analysts attributed to lower borrowing costs and a looser monetary supply.
China's central bank cut benchmark interest rates for the first time since December 2008 in June and further cut the rates earlier this month to support the softening economy.
Diminishing revenues from land sales may result in more risks for bank loans to financing vehicles, or companies set up by local governments to raise funds and bypass restrictions on direct government financing, the anonymous financial regulator warned.
Xinhua and Bloomberg contributed to this story.
Contact the writers at yuran@chinadaily.com.cn and liwenfang@chinadaily.com.cn
(China Daily 07/25/2012 page13)