Alibaba Group Holding Ltd, China's largest e-commerce company, has unveiled a major reorganization, which analysts said paves the way for the company's stock market listing.
The shake-up, in which the company's six subsidiaries have been transformed into seven business groups, is the latest in a line of frequent structural changes at Alibaba over the past two years, and strengthens its control over its business arms.
Alibaba.com Ltd, which the group took private from the Hong Kong Stock Exchange in June, was separated into the China Business Unit, which enables Chinese small and medium- sized enterprises to trade with each other, and the International Core Business Unit, which targets international SMEs.
The other business groups are online marketplaces Taobao.com, Tmall.com and Juhuasuan.com, e-commerce search engine Etao.com, and AliCloud, a cloud computing services developer. The presidents of the seven business groups will report directly to chairman and CEO Jack Ma.
"We must accelerate the implementation of the 'One Company' strategy and effectively integrate the China Business Unit with Taobao marketplace so as to truly create a mechanism for openness, synergy and sharing," Ma said in an e-mail to more than 23,000 employees on Monday.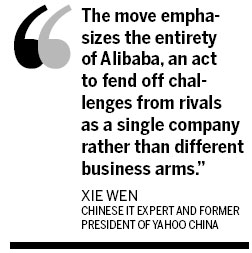 Alibaba has promoted its "One Company" strategy this year, as it has found it difficult to have distinct business arms working together while maintaining the group's overall control.
In an interview with the Wall Street Journal in June, Ma said "we don't have any experience. We don't know how to organize".
"The move emphasizes the entirety of Alibaba, an act to fend off challenges from rivals as a single company rather than different business arms," said Xie Wen, a Chinese IT expert and former president of Yahoo China, part of Alibaba. "It is also likely that the company will seek a public listing as a group," he said.
Hong Bo, a Beijing-based IT analyst, agreed that the company's latest move is part of preparations for a listing.
In May, Alibaba regained boardroom control from Yahoo Inc, formerly its biggest shareholder, buying back as much as half of Yahoo's former stake, which was about 40 percent of the company. As part of that deal, incentives that have been offered to encourage Alibaba to seek a public listing will come to an end by December 2015.
"Alibaba has been restructuring its organizations in the past few years, trying to find a suitable way to grow its business, and the move this time is not likely to be the last one," Hong said.
In June 2011, Alibaba split its online shopping unit Taobao into three separate companies - Tmall.com, where businesses sell to customers, Taobao.com where individuals trade with each other, and shopping-related search engine Etao.com. This was followed by the separation of Juhuasuan.com, its group-buying arm in October.
The frequent changes came as Alibaba's business expanded rapidly, boosted by China's online shopping craze.
Alibaba's online shopping websites, Taobao.com and Tmall.com, which together account for more than 70 percent of China's online retail market, are expected to handle transaction volumes of more than 1 trillion yuan ($157 billion) this year, up 150 percent from 2010, said Zeng Ming, Alibaba's chief strategy officer.
In May, Tencent Holdings Ltd, China's biggest Internet company by sales, also reorganized its business operations into six groups as it tries to improve efficiency and grow beyond its core gaming business.
chenlimin@chinadaily.com.cn
(China Daily 07/24/2012 page14)