China Scene
Updated: 2012-07-14 08:00
(China Daily)
| | | | | | | | | |
| --- | --- | --- | --- | --- | --- | --- | --- | --- |
|   | | Print | | Mail | | Large Medium  Small | 分享按钮 | 0 |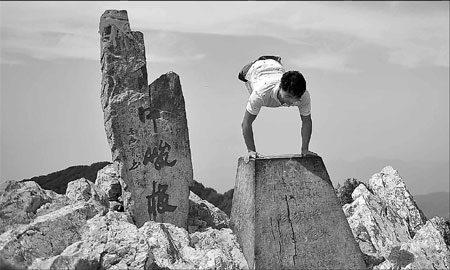 On the top
Chen Zhou poses to celebrate reaching Junji Peak of Songshan Mountain in Central China's Henan province, on Thursday. Chen, 29, from Cangshan, Shandong province, climbed by arms to the top in seven hours. He lost his legs after falling off a train at the age of 13, but he has since strived to be stronger and joined in many public performances to encourage others. Photo by Zhu Zheng / Xinhua
Beijing
Navy comes to aid of stricken warship
The Chinese navy on Friday was rescuing a frigate that ran aground in the waters of China's Nansha Islands.
A news release on the website of the Defense Ministry, citing a source from the ministry's media department, said the frigate ran aground while conducting a routine patrol mission in the waters around the Banyue Shoal at about 7 pm on Wednesday. No casualties were reported.
Food-poisoning deaths reported
China reported 31 deaths from food poisoning on the mainland during the second quarter of the year, the Ministry of Health said Friday.
Poisonous animal food, plants, and mushrooms were top killers, claiming 22 lives, it said.
The food-safety surveillance network, organized by the Chinese Center for Disease Control and Prevention, has received 51 cases of food poisoning nationwide, involving 2,227 victims, it said.
Among the 51 cases, 15 happened on school campuses, affecting 1,383 students, two of whom died. Compared with the same period last year, the total number of food poisoning cases has decreased by 10.5 percent over 2011, but deaths have increased by 29 percent.
Welfare plans for one-child families
The Chinese government is set to introduce more welfare and favorable policies helping parents of only one child to live a better and easier life in their old age.
Cui Li, deputy director of the National Population and Family Planning Commission, made the announcement at an event to mark World Population Day on Wednesday.
The country will also continue to beef up both economic and mental support, particularly for marginalized groups, like left-behind families of migrant workers and families who lost their children, she added.
China has implemented the family planning policy since the late 1970s on the mainland. The policy limits most couples to one child.
Online video portals to clean content
China's industrial association for online video providers on Friday released a self-disciplinary convention on tightened content controls, days after the government issued a circular regarding the same issue.
Contracting parties should examine videos before making them available, as well as create a "quick response mechanism", the convention said.
It stresses content providers' social responsibilities and states that videos featuring content that is banned by law, harmful to minors or "contradicts social virtues and traditions" should not be made available.
The convention also proposes penalties for violators, including warnings and publication of the offenses.
In a jointly released circular, the State Internet Information Office and the State Administration of Radio, Film and Television on Monday urged online video content providers to closely examine their videos before making them available for viewing, stating that providers will be held responsible for the videos posted on their respective websites.
Guangxi
Police confiscate over 50 kg of heroin
Police in South China's Guangxi Zhuang autonomous region have cracked a trans-border drug trafficking case, confiscating 51.78 kg of heroin, local authorities said on Friday.
The police also detained two suspects on Thursday, including a female foreigner who was only identified by her surname, Ruan. A further manhunt for others involved is under way.
Ruan, whose nationality was not given in the statement, was caught by police on July 2 in the city of Dongxing.
Ruan confessed that she was hired by a foreigner to traffick the heroin into Dongxing and then deliver it to Guangzhou, capital of adjacent Guangdong province, according to the statement.
The police then went to Guangzhou and arrested another trafficker surnamed Liu.
Jiangsu
40 still hospitalized after chemical leak
Forty people remain hospitalized after a sulfur dioxide leak on Thursday morning at a chemical plant in Zhenjiang City in East China's Jiangsu province, local authorities said on Friday.
Kong Hanliang, deputy director of the city's health bureau, said the victims are in no immediate danger after being poisoned by sulfur dioxide that leaked from the chemical plant.
Kong said another 35 people are under medical observation after showing respiratory problems.
Around 10 am on Thursday, a small amount of sulfur dioxide was leaked in a chemical plant belonging to Jiangsu SOPO Group Co. The leak lasted about five minutes.
After the spill, about 120 plant employees and local residents began complaining of an "uncomfortable" feeling and were sent to local hospitals.
Hubei
Huge hydropower unit installed
China has completed the installation of the world's largest hydropower-generating unit and begun tests of it, according to the China Three Gorges Corp.
Workers are testing the generator with a capacity of 800,000 kilowatts at the Xiangjiaba Hydropower Station, which is in the lower reaches of the Jinsha River, a major headstream of the Yangtze River, a spokesman with the corporation said on Friday. The trial of the unit, coded No 8, is set to be finished by the end of July, the spokesman said.
Construction of the Xiangjiaba Dam started in late 2006. The dam, designed with eight 800,000-kW generators, will have a total generating capacity behind only that of the country's Three Gorges Dam and the Xiluodu Hydropower Station.
Previous reports said China is working on hydropower units with a record-breaking capacity of more than 1 million kW, expected to be put into service by 2020.
China Daily Xinhua
(China Daily 07/14/2012 page2)