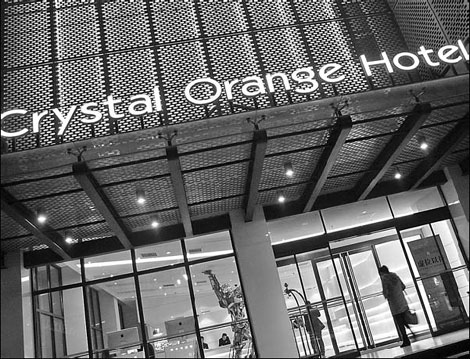 A Crystal Orange Hotel in Beijing. Private-equity firm Carlyle Group has taken a controlling stake in Mandarin Hotel Holdings Ltd, which operates the Crystal Orange Hotel brand, among others. Provided to China Daily
Carlyle Group LP, one of the world's largest private-equity firms, has taken a controlling 49 percent stake in China's Mandarin Hotel Holdings Ltd and will work with it to tap the country's emerging mid-tier hotel market.
Officials declined to reveal a value for the investment, but a deal by Carlyle Asia Partners III LP fund, through which the investment was made, is usually more than $75 million, although sources suggested this deal could be valued slightly lower.
Carlyle is reported to have invested around $4 billion in more than 60 deals in China.
"The mid-tier market in China is very fragmented and of great potential, and Mandarin Hotel Holdings is a leader in this market with its product design and marketing strategies," said Zhang Chi, managing director at Carlyle Asia Partners.
"So we feel confident to help the company perfect its business and brand to win in the market."
The room number of mid-tier chain hotels has only accounted for 12 percent of the whole mid-tier hotel industry, according to material from Carlyle.
Founded in 2006, Mandarin Hotel Holdings Ltd, which is not related to the Mandarin Oriental chain, has operated 25 designer hotels in six major cities in China, 14 of them in Beijing. It operates under the Crystal Orange Hotel and Orange Hotel brands.
The hotels target business and leisure travelers and its properties are located in Beijing, Dalian, Hangzhou, Nanjing, Ningbo and Tianjin, with rooms priced from 300 yuan to 700 yuan ($47 to $110) per night.
At the end of 2007, Carlyle Asia Partners II invested about $100 million in New Century, a private hotel management company in China.
"We are proud of the achievements we have made over the past six years, and the partnership with Carlyle will be a milestone for the long-term development of our chain," said Wu Hai, founder and CEO of Mandarin Hotel Holdings Ltd and a former vice-president at Ctrip, a leading online travel agency.
He added that by leveraging Carlyle's international network and industry knowledge, he expected the hotel group to further strengthen its brand awareness, improve service quality through improved training programs and continue to expand in China.
Wu said it would focus on its accommodation and develop new hotels by themselves. A first hotel in Shanghai will be opened by the end of this year.
"China's hotel market looks like a dumbbell, in that high-end and budget hotels have developed very well while even the largest 10 mid-tier hotels account for no more than 5 percent in mid-tier hotel market," said Wu.
In 2010, Chinese private conglomerate Fosun Group bought a 44 million euro ($55 million) stake - now 10 percent - in French resort operator Club Mediterranean SA, which has an eye on China's growing domestic tourism market.
US-based Marriott International Inc also plans to almost double the number of its hotels in China to more than 100 by 2014, according to earlier media reports.
caixiao@chinadaily.com.cn
(China Daily 07/06/2012 page16)