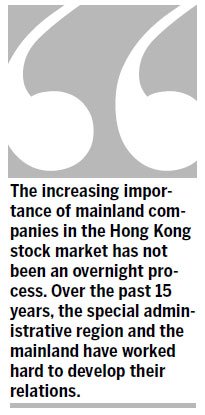 CEPA will continue to expand and deepen cooperation, which will promote regional and national prosperity
Fifteen years have passed since Hong Kong returned to China in 1997, but the scenes of that historic moment remain etched in my memory. Changes have taken place, in a quiet but substantial manner, and it never ceases to amaze me how close the economic ties between the Hong Kong Special Administrative Region and the Chinese mainland have become.
A look at the Hong Kong stock market reveals that of the 49 stocks selected as the constituents of the Hang Seng Index, 22 are either H shares, shares of companies incorporated in the Chinese mainland, or red chips, the stocks of companies incorporated outside the Chinese mainland but controlled by mainland entities. In terms of market capitalization and turnover, mainland companies already account for a larger proportion than local companies, and they have become a significant part of the Hong Kong stock market.