Qianhai poised to be hub of cooperation
Updated: 2012-06-30 08:14
By Sophie He in Hong Kong (China Daily)
| | | | | | | | | |
| --- | --- | --- | --- | --- | --- | --- | --- | --- |
|   | | Print | | Mail | | Large Medium  Small | 分享按钮 | 0 |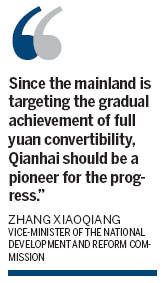 The central government has unveiled bold plans for the development of a new financial and commercial hub in the Qianhai Bay economic zone near Shenzhen, which will offer low corporate taxes, tax-free working, and a strong legal regime with nearby Hong Kong playing a key role in its success.
The new zone will officially be known as the Qianhai Shenzhen-Hong Kong Modern Service Industry Cooperation Zone, and has been given "national strategic importance" by the State Council.
Qianhai will focus on financial, logistics and IT services and is set for completion in 2020, said officials.
It will become a modern service industry cooperation zone and a pilot district for future cooperation between Hong Kong and the Chinese mainland, said Zhang Xiaoqiang, vice-minister of the National Development and Reform Commission, in Hong Kong on Friday.
He stressed the pilot measures to be launched in Qianhai had been carefully designed to reflect Hong Kong's unique position in the area's development and had also taken into consideration the city's opinions and demand during the policy making process.
The series of pilot measures cover finance, taxation, legal, human resources, education, medicine as well as telecommunications, he said.
Eligible companies allowed to operate in the new zone will enjoy a 15 percent preferential corporate profit tax rate, while workers will also be exempted from personal income tax.
The mainland will also support Qianhai's development as an "experimental zone" for cross-border yuan business. The central government will help companies in Qianhai issue yuan bonds in Hong Kong and with the establishment of a Qianhai equity investment fund.
"Since the mainland is targeting the gradual achievement of full yuan convertibility, Qianhai should be a pioneer for the progress," said Zhang.
He added foreign equity investment funds will be encouraged to develop in Qianhai and the threshold for Hong Kong financial institutions to enter the district will also be lowered under the Closer Economic Partnership Agreement.
Beijing announced a series of new measures on Wednesday for Hong Kong, including allowing joint ventures among the stock exchanges of Shanghai, Shenzhen and Hong Kong, and letting Hong Kong financial firms set up consumer arms in Guangdong province, which includes Shenzhen.
The Hong Kong Monetary Authority welcomed the pilot's plans to "facilitate cross-border use of the yuan and (the currency's) flows between the mainland and Hong Kong", adding that the measures would also provide support for yuan bank loans and yuan bond market business as it develops its own maturing offshore yuan business platform.
The pilot measures reflected Hong Kong's important role in mainland's reform, while carrying out the "win-win" financial cooperation between Hong Kong and Shenzhen, said HKMA.
Other than the financial-related area, the central government will also support Hong Kong's educational institutions to establish wholly owned schools in Qianhai. Medical institutions in Hong Kong are also encouraged to establish hospitals in the district.
Professionals in Hong Kong will be allowed to practise in Qianhai, and Hong Kong professionals who obtained the certification of Chinese Certified Public Accountant will be allowed to become partners of mainland accounting firms.
Arbitration institutions in Hong Kong will be allowed to explore ways to establish affiliates in Qianhai, while the cooperation between mainland and Hong Kong law firms will also be improved.
Beijing will also facilitate telecom firms in Hong Kong to establish joint ventures in Qianhai.
Liao Qun, chief economist of the China Banking Group at Citic Bank International, told China Daily that since the pilot policies for Qianhai had been officially announced, "there will be great room for Hong Kong and Shenzhen to cooperate".
Liao said that with the policies, Qianhai would be a platform for financial institutions to enter the mainland.
He added that he believes companies in Qianhai will be allowed to borrow money directly from Hong Kong banks, bringing greater opportunities for the banking sector in Hong Kong.
Meanwhile, the mainland has approved the listing of two exchange traded funds on the Shanghai and Shenzhen stock exchanges, which will invest directly in Hong Kong-listed stocks, each tracking a Hong Kong stock index.
Eddy Fong, chairman of the Hong Kong Securities and Futures Commission, said that the ETFs, which will track the Hong Kong stocks index, will provide a new way for mainland investors to invest in Hong Kong stocks.
sophiehe@chinadailyhk.com
(China Daily 06/30/2012 page3)