First Chinese in orbit reminisces
Updated: 2012-06-30 08:14
By Lin Qi (China Daily)
| | | | | | | | | |
| --- | --- | --- | --- | --- | --- | --- | --- | --- |
|   | | Print | | Mail | | Large Medium  Small | 分享按钮 | 0 |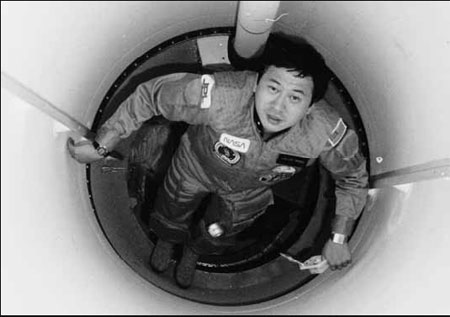 Taylor Wang floats through a tunnel connecting Spacelab 3's module to the mid neck of the shuttle aboard the Challenger in 1985. Provided to China Daily
China's Shenzhou IX space mission, the country's first manned docking mission, brought back Taylor Wang's memories of his space trip back in 1985.
As the first ethnic Chinese astronaut-scientist, Wang, then working at the California Institute of Technology's Jet Propulsion Laboratory, went aboard the Challenger for NASA's first operational Spacelab mission.
Looking back on the trip, Wang smiled. Thirty-five years after leaving his birthplace, he, aboard a spacecraft, "ran across" the Chinese mainland in about seven minutes.
He hopped on a jogging machine when the Challenger "entered" the Guangxi Zhuang autonomous region on the last day of his space trip in 1985, and ran until the space shuttle "left" Northeast China.
"The spacecraft flew over China four times a day. I had looked up the precise time and orbit before departure," Wang said.
He joked to himself that the flight over China made him an awesome qinggong, or gravity-defying kung fu moves master, who could beat any hero in the martial arts fiction he had read in childhood.
Wang, now 72, is an emeritus centennial professor of materials science and engineering at Vanderbilt University in Nashville, Tennessee. The seven-day space trip also fulfilled his other dream as a scientist - to conduct experiments in zero gravity.
When NASA approved his design of a drop dynamics experiment as a scientific undertaking aboard the space shuttle in 1980, Wang didn't expect that he would be the one conducting the experiment.
In 1982, NASA had an open selection process for scientists to be trained as astronauts. Wang applied.
"I thought I could at least establish a bottom line. For a potential astronaut, one couldn't get much worse than me," Wang recalled.
But that didn't mean he wasn't serious.
"Scientists have one fatal flaw - they are obsessed by their experiments. And I'm no exception. I will even go out of this world to do my experiments," he said in his later account, A Scientist in Space, published on Science magazine in 1986.
Wang was chosen as one of the four science-astronaut candidates. He survived a rigorous screening process. For instance, he was once put in a large balloon, which was zipped up and hung up in midair. He could neither hear anything nor feel any outside stimulus.
The test checked whether candidate astronauts have claustrophobia. Wang says he didn't panic and fell asleep.
He quite enjoyed the scientific training, in which candidates had to learn all the 14 experiments to be conducted on the flight.
"I felt like I was entering a candy shop, because I could see other people doing experiments. Normally if you want to observe other's work, you are given only five minutes."
Wang finally became a payload specialist of the seven-man crew aboard Challenger in September 1984. He flew on the spacecraft from Kennedy Space Center in Florida on April 29, 1985.
He says that just before liftoff, astronauts take care of last-minute things - body functions, insurance payments or religious services - in a "white room" right outside the spacecraft. This is also the place where he could still change mind and get off.
"I never thought about giving up," he said. "We are there, because we choose to. It is a venture. We think of nothing else but to seize this rare opportunity."
Before the shuttle entered orbit, he couldn't help thinking, "Have I paid my insurance premium?"
The launch was smooth. However, Wang had a crisis not long after his space trip started. He turned on his instruments on the second day, but found they didn't work.
Normally astronauts have to give up when a malfunction like that happens, Wang said, because it is very difficult to repair a device in space.
"I had prepared two years for the experiment. But I might end up returning to Earth without any accomplishment," he said.
Chinese communities throughout the United States were overjoyed at Wang's space trip and formed many supporting groups.
"It occurred to me that, like a Chinese saying goes, 'I would be too ashamed to go back home to see my elders'. I grew up under the notion that a child should not disgrace his/her family and people," he said.
He pleaded with NASA to allow him to fix the experiment. He said: "If you guys don't give me a chance to repair my instrument, I'm not coming back."
NASA had a psychologist talk to Wang, fearing that he was mentally unstable. Flight commander Robert Overmyer told administrators on the ground that Wang was fine but totally frustrated about the failure.
NASA finally compromised and said that Wang could have a try. He spent two-and-a half days repairing the instruments. Then he worked about 15 to 16 hours a day to complete his personal experiment.
"It must be out of merits and virtues that my ancestors had accumulated," he laughed.
Wang had traveled more than 4.64 million kilometers (2.9 million miles) in 110 Earth orbits, and logged more than 168 hours in space, when the crew landed at Edwards Air Force Base in California on May 6.
Born an heir to a shipping entrepreneur in Jiangxi province, Wang grew up in Shanghai. At age 10, he moved to Taiwan with his family.
He went to the US in 1963 to study economic management as preparation to inherit the family business. But he found the course unbearably boring and quit in two weeks. He transferred to physics, which he had fallen in love with, despite his father's opposition.
Wang once told his father: "I don't want to be famous as your son. I hope one day you will be acknowledged as my dad."
He has received many rewards and recognitions for his space trip.
Among others, he was granted the You Bring Charm to the World: Chinese Influencing the World Award, a prize elected by dozens of Chinese media organizations, in March in Beijing.
"Professor Wang wins my respect not only because he is the first to have realized the Chinese dream of entering space. He is also the first scientist to have completed a self-designed physics experiment in space," award presenter and vice-chairwoman of the National Committee of the Chinese People's Political Consultative Conference Zhang Meiying said.
China has no career-scientist trained astronaut yet.
Wang, now works with doctors and researchers at Harvard Medical School trying to find a cure for diabetes after retiring from teaching in 2009. He also encourages young Chinese scientists to follow his steps and follow their dreams.
linqi@chinadaily.com.cn
(China Daily 06/30/2012 page4)