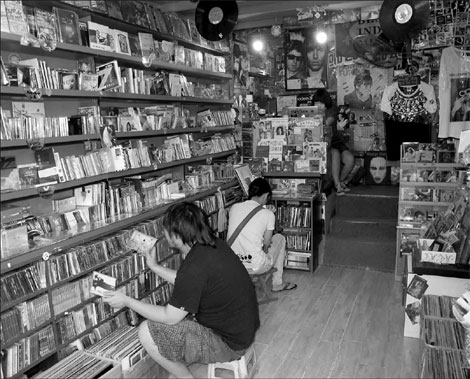 Music fans browse through CDs and records at the Indie Music record store in Jiugulou Dajie, Beijing. Yang Yang / China Daily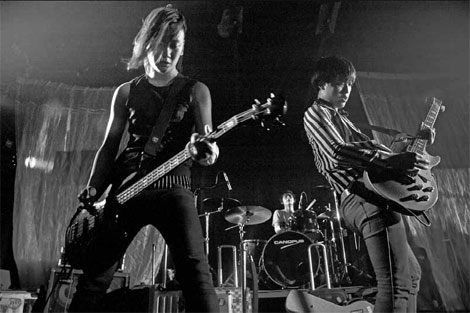 Rock 'n' roll band Rustic performing in Beijing. With limited income from their records, many bands are turning to touring. Provided to China Daily
Producers struggling as they face challenges of piracy, 'unfair' revenue distribution
In January, Song Ke, arguably the most popular music producer in China, announced he was quitting the business to run a roast duck restaurant. Five months later, he made an equally surprising return.
Song, the former deputy general manager and production director of Warner Music China and founder of Taihe Rye Music Co Ltd, was hired in June as the general manager of upstart Evergrande Music. But though the news about the producer's return made waves across the industry, it was his departure at the beginning of the year that revealed more.
As Song put it in January, "China's music industry is at a crossroads. We all need to think about what to do".
What his abrupt departure showed most of all is that the Chinese music industry is struggling badly. With piracy and the rise of digital media, the industry and its music producers, both domestic and foreign, are trying to find their way in the nation.
China's music industry accrued $82.8 million in total sales last year, according to the International Federation of the Phonographic Industry. But 76 percent of that total revenue came from digital sales. Sales of media, which include compact discs, records and cassettes, totaled $19.9 million across the country.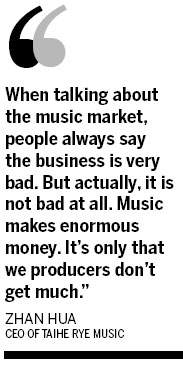 Although China is the world's second-largest economy and has a population of more than 1.3 billion, its music sales ranked 22nd in the world last year.
The main reason? Piracy. In the age of the Internet, technological advance and the rise of new media, record sales are dropping globally. In China, record sales reached $55.5 million in 2006, but dropped to $19.9 million last year, according to the IFPI.
In 2010, more than 70 percent of the revenue from China's music companies came from digital music sales, although the IFPI said that 99 percent of the music in China was pirated.
And although China has twice as many netizens as the United States, per capita digital music sales in China are just 1 percent of those in the US.
In addition to piracy, there is another factor harming China's music industry - revenue distribution.
If a song generates 100 yuan ($15.7) in revenue, only 2 yuan goes to music producers in the form of royalties, according to industry insiders. The remainder goes to telecom operators such as China Mobile as well as Internet service providers such as the search engine company Baidu and Web portals Sina and Tencent.
In many other countries, music producers take a bigger share of sales. In the US, the world's largest music market, music companies can get up to 70 percent of music sales, while in Japan, the second-largest market, 90 percent goes to producers, said Zhan Hua, CEO of Taihe Rye Music.
"When talking about the music market, people always say the business is very bad. But actually, it is not bad at all. Music makes enormous money. It's only that we producers don't get much," Zhan said.
Music producers also complain that they are losing out in the ring tone business. China Mobile made more than 26 billion yuan in 2010 from ring tone sales, a figure that exceeded 30 billion yuan last year, according to the China Audio-Video Association.
"They make so much money on music, but (mobile phone service companies) pay very little to us," Zhan said.
To try to make ends meet, many producers are finding other outlets.
Taihe Rye Music, once the largest record label on the Chinese mainland, did not renew the contracts of any of its artists two years ago, including stars such as Chris Li and Pu Shu. Now about 70 percent of its revenue comes from royalties from more than 2,000 songs the company owns.
With limited income from their records, many bands are turning to touring.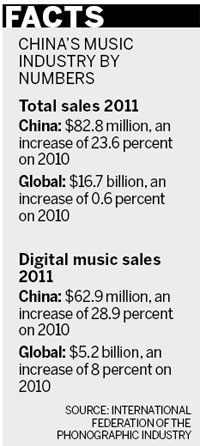 Tian Jianhua, spokesman for the punk band Reflector, said the band puts on more than 200 performances a year, but its best-selling record has sold only about 100,000 copies.
"If we relied purely on album sales, we would already have starved to death," Tian said.
Record label Modern Sky has in recent years gone the way of music festivals. Each year, the company hosts the Strawberry Music Festival, China's largest, in Beijing, Shanghai and Xi'an.
Similarly, 13-Month, a company famous for finding folk bands, has held an annual national tour called Folk on the Road since 2009. It is also producing short films. Only 10 percent of its more than 10-million-yuan revenue last year came from royalties.
Domestic record companies are not the only ones to suffer from the demise of the industry in China. Universal Music, the world's biggest music company, is finding it tough to survive in the nation.
Although the company will release more digital albums this year, it will slash the number of CDs and records from last year's 200 to 160.
"It's mainly because of piracy," said Janis Chang, general manager of Universal Music Group International China. "We cannot even recover the production costs."
US pop singer Taylor Swift, who is signed to Universal Music, has so far sold 7 million albums worldwide, but only 100,000 in China.
Starsing Records is the agent of three multinational music companies in China. When the company wanted to publish British singer Adele's album 21, it found more than 100 pirated records on the market.
For Chang, challenges for the Chinese music industry include informing people of the harm that pirated online music can do to the industry, and strengthening legal safeguards.
But when asked why they are still making music, many in the record business cite their perseverance, their love of music and their hope that the business will evolve someday.
"The current chaotic market needs regulation," said Chang, adding that "recent industry booms like ring tones promise huge market potential. Once the environment gets better, you can imagine how many opportunities we will have".
Shen Lihui, general manager of Modern Sky, is also optimistic. "I think in three to five years, China's copyright law will be perfected and everything will get better."
Guo Biao, the IFPI's chief representative in China, agreed.
"Once the business environment gets better, the market will boom very quickly," he said.
The reason for their optimism partly stems from recent efforts by the Chinese government to protect intellectual property rights.
Since 2005, it has been cracking down on online music piracy. Last year, the State Council established the National Leading Group for IPR Enforcement, headed by Vice-Premier Wang Qishan. In a three-month campaign last year, 17 major illegal websites that offered unauthorized services, such as free downloads of books, movies and research papers, were closed.
Another reason for optimism is a draft amendment to the copyright law. The draft demands that commercial activities using music for commercial purposes must pay music companies or musicians a fair price. If the law is passed, restaurants, cafes, and television and radio stations will need to pay musicians if these venues use their music.
Last year, performance rights - fees that record labels charge users for commercial usage of their music - accounted for 6 percent of their global revenue, and this figure is set to rise, according to the IFPI.
IFPI CEO Francis Moore said at the China International Copyright Expo on June 22 that "here in China, there has also been important progress for the music and creative industries.
"China continues to present an extraordinary, and to a large extent untapped, opportunity for the music industry and artists."
At the launch ceremony of Evergrande Music, Gao Xiaosong, a Chinese musician who joined the company with Song Ke, said: "We want to build a big music company that will last 100 years."
"Recently we saw the government move to develop the music industry. We feel that the music industry's spring is coming soon. Many big investors want to test the waters. We are leading the trend," Gao told Beijing Daily.
Sun Yuanqing contributed to this story.
yangyang@chinadaily.com.cn
(China Daily 06/30/2012 page10)