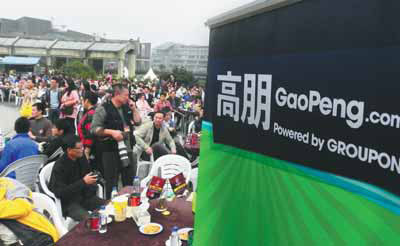 A promotion organized in Hangzhou, East China's Zhejiang province, by the group-buying website GaoPeng.com, a joint venture with Groupon Inc. GaoPeng will merge with Ftuan, a group-buying site under Tencent Holdings Ltd. Provided to China Daily
The Chinese Internet giant Tencent Holdings Ltd said on Wednesday its daily-deal website Ftuan is merging with Groupon Inc's China venture GaoPeng to form a new company in a move that is likely to trigger another round of merger speculation in the country's under-pressure group-buying sector.
Officials from the companies involved insisted no large job cuts will result from the "marriage", despite reports it could lead to 70 percent of GaoPeng's staff being cut.
The new combined company will form an operation with around 10 percent of the market share, which will build on the respective strengths of Ftuan in local lifestyle services, and GaoPeng in global sourcing, according to a joint statement by the firms.
Lin Ning, president of Ftuan, said: "China's group-purchasing market is shifting from one that was investment-driven to one that is now operation-focused, and the merger will give us more scale and help us deliver innovative products to customers."
Financial terms of the deal were not disclosed.
The Beijing Morning Post earlier suggested that nearly 70 percent of GaoPeng's employees are likely to lose their jobs as a result of the merger, but Lin insisted that while some integration of personnel is necessary in any new company, the merger is more aimed at expanding the operation, rather that downsizing it.
"We are planning on expanding our business and services in more Chinese cities later this year," he added.
"Group buying is only a segment in e-commerce, and as an e-commerce company, Ftuan will look at other sectors such as services based on mobile Internet.
"After a recent refinancing, we have sufficient capital reserves to support Ftuan's operation for the next three to five years," he said.
However, industry insiders believe the deal will have a small effect on the country's group-buying sector because Ftuan and GaoPeng have a combined market share stands of just 10 percent.
Yang Guoqiang, assistant to the chief executive officer of rival 55Tuan, one of the country's largest group-buying websites, said he thought the deal would spark similar mergers, in what is still considered an overcrowded marketplace.
"The market is set to see more mergers this year because the market needs integration after years of rapid expansion," he said, predicting that "only the top three companies will survive at the end of the integration".
The number of group-buying websites has continued to decline, the latest data from group-buying portal Tuan800 showed.
China's group-buying industry was worth 1.73 billion yuan ($271.89 million) in the first quarter of this year, according to the Beijing research firm iResearch.
But at least 215 group-buying websites were closed in April alone, said Tuan800, adding that the monthly trading volume was less than 1.7 billion yuan, down by 2.4 percent from March.
"More than 80 percent of the market share will be taken by at the most five group-buying websites as a result of the merger," Tuan800 predicted.
The top 10 group-buying websites now account for nearly 90 percent of the market.
The number of such sites peaked at around 5,000 in 2010 after a rash of investment into the sector.
However, the numbers quickly shrank as venture capitalists withdrew their investments amid market stagnation.
A number of websites were forced to close and those who survived tried to develop new business models.
Earlier this month, the Beijing-based LaShou Group Inc withdrew its application for an up to $100 million initial public offering, which analysts suggested was influenced by the clumsy IPO of the US Internet company Facebook Inc.
The company, which runs China's leading daily deals website Lashou.com, had in November delayed the IPO in response to "corporate developments".
gaoyuan@chinadaily.com.cn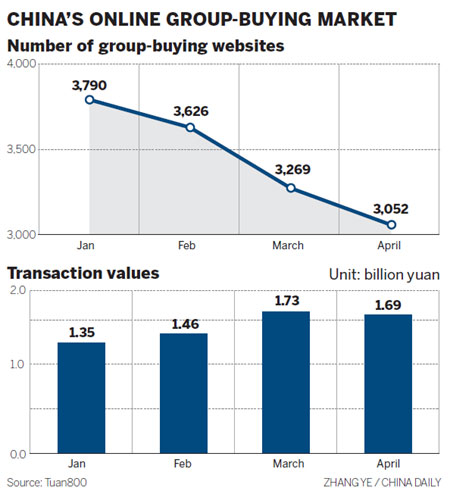 (China Daily 06/28/2012 page13)