Americans split on 'Obamacare'
Updated: 2012-06-25 08:06
By Agencies in Washington (China Daily)
| | | | | | | | | |
| --- | --- | --- | --- | --- | --- | --- | --- | --- |
|   | | Print | | Mail | | Large Medium  Small | 分享按钮 | 0 |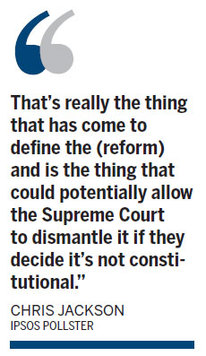 Most Americans oppose US President Barack Obama's healthcare reform even though they strongly support most of its provisions, Reuters/Ipsos poll showed on Sunday, with the Supreme Court set to rule within days on whether the law should stand.
Fifty-six percent of people are against the healthcare overhaul and 44 percent favor it, according to the online poll conducted from Tuesday through Saturday.
The survey results suggest that Republicans are convincing voters to reject Obama's reform even when they like much of what is in it, such as allowing children to stay on their parents' insurance until age 26.
Strong majorities favor most of what is in the law. A glaring exception to the popular provisions is the "individual mandate," which forces all US residents to own health insurance.
Sixty-one percent of Americans are against the mandate, the issue at the center of the Republicans' contention that the law is unconstitutional, while 39 percent favor it. "That's really the thing that has come to define the (reform) and is the thing that could potentially allow the Supreme Court to dismantle it if they decide it's not constitutional," Ipsos pollster Chris Jackson said.
A ruling is expected as early as on Monday - two years to the day after Obama signed into law an act to insure an extra 32 million Americans and prevent coverage from being refused on the basis of patients' medical histories.
At the heart of the Patient Protection and Affordable Care Act, dubbed "Obamacare" by its critics, lies the individual mandate that requires every US citizen from 2014 to take out health insurance or be subject to a fine.
Opponents argue that Congress overstepped its constitutional prerogatives in requiring individuals to buy insurance, while the Obama administration contends that the move is vital and in line with existing trade and tax law.
Underlining the size and scope of the decision, the nine Supreme Court justices held six hours of oral arguments over three days in late March, the longest time allotted to debating a single issue in more than 45 years.
AP-AFP
(China Daily 06/25/2012 page12)