Wang finds formula for success
Updated: 2012-06-21 08:29
By Zhou Yan in Shenyang (China Daily)
| | | | | | | | | |
| --- | --- | --- | --- | --- | --- | --- | --- | --- |
|   | | Print | | Mail | | Large Medium  Small | 分享按钮 | 0 |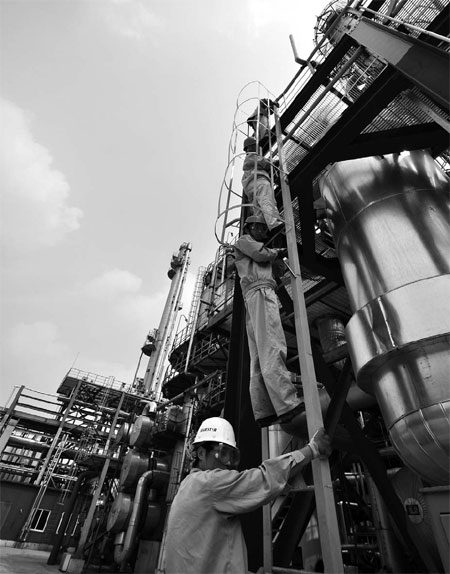 The catalytic pyrolysis process equipment built at Shenyang Chemical Co Ltd. Using CPP equipment, the company has built up an industry chain from upstream raw material supplies to downstream sales of petrochemical products. Ge Ning / for China Daily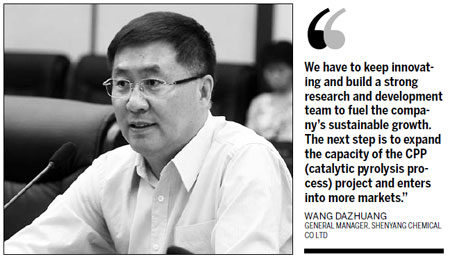 Bold restructuring turns ailing Shenyang firm into industry giant
Wang Dazhuang turned around a waning State-owned petrochemical company that had been stagnant for more than a decade when he took the helm in 2002, but in doing so he took a very big risk.
Had he not succeeded, about 20,000 employees would have lost their jobs, alongside tens of thousands of manufacturing workers in the city of Shenyang.
"I was under immense pressure with the future of a badly performing company in my hands," Wang recalled. The then 40-year-old was general manager of Shenyang Chemical Group Co, a behemoth, like many of its State-owned peers, with 10 subsidiaries and hundreds of products. 
After taking office, Wang started taking measures to restructure the company's product portfolio by axing most of the unprofitable lines and updating the old-fashioned manufacturing equipment to cut costs.
To achieve his ambitions to revive Shenyang Chemical, he had to scramble to raise cash to close a huge funding shortfall. Wang recalled that in the first several years, funding was an issue that he had to confront almost every day in managing a cash-strapped company in a capital-intensive industry.
Around 6.2 billion yuan has been invested in the company since 2003 to upgrade technology and products. The investment was hefty compared with the 2 billion yuan asset size of the company.
"I racked my brains over financing and visited one bank after another," Wang recalled. The issue became particularly critical when he decided in 2007 to build the world's first ever catalytic pyrolysis process equipment by adopting a novel technology to convert heavy hydrocarbons into ethylene and propylene.
CPP was the project Wang selected from among dozens, even though it proved to be the most difficult one.
CPP is a technology developed by Wang Xieqing and his team, from the Chinese Academy of Engineering. They acquired patents both at home and abroad. The state-of-the-art science, however, had never before been developed for commercial operations because of the complicated technology and high risks when Wang decided to embark on the project.
Given that in theory it would solve the problem of the shortage of raw materials that most chemical companies face and would turn a cheaper residual oil into ethylene, Wang decided it was worth a try.
China consumed 31.3 million metric tons of ethylene last year. More than half of it was imported. "The supply deficit is huge and will not easily be met anytime soon in China," said Li Chen, deputy chief engineer of China National Petroleum and Chemical Institute.
In a country that is heavily reliant on crude oil and ethylene, CPP is an efficient tool enabling the country to cope with a shortage of natural resources, Li said. "It was a wise move."
But back in 2004 it was a hard decision. Wang admitted he had never experienced heavier pressure than when he set about establishing the revolutionary CPP project, which cost the company 3 billion yuan.
To meet the funding shortfall, he visited all the banks in the city. Most turned him down. Finally, a small local bank lent him 1.3 billion yuan to quench the company's cash thirst.
The project began in 2007. "We encountered numerous technological difficulties and even uncovered attempts by our rivals to get information about the project during the two-year construction period. Fortunately, we made it."
It proved to be a wise bet. The CPP equipment was able to process 500,000 tons of heavy oil feedstock a year, contributing 3 billion yuan in revenue to the company when it became operational in 2009.
After processing the ethylene into polythene products that were easier to transport, the company was able to sell them to an eager market.
Moreover, due to the revolutionary nature of the equipment in the country's energy market, the central government granted the company an annual crude oil supply quota of 720,000 tons.
More importantly, this guaranteed the company's supply of raw materials.
Despite the turbulent nature of the highly competitive chemicals market in recent years, the company recorded revenues of 10.4 billion yuan last year, up more than 33 percent from a year earlier.
It was remarkable how steadily the company sailed along with the tides of reform in Shenyang, which saw lots of big State-owned companies suffer bankruptcy.
Wang had luck that made many executives envious.
In April 2004, approved by the Shenyang government, Shenyang Chemical Group underwent capital restructuring with China National Bluestar (Group) Corp - now China National Bluestar (Group) Co Ltd - a part of China National Chemical Corp, or ChemChina, a central government-owned petrochemical giant.
Wang said that the decision to join Bluestar, in which the US private equity firm Blackstone Group LP owns 20 percent equity, was among the smartest decisions he has ever made. It helped the company embark on a period of sustainable improvement in corporate strategy and management.
Shenyang Chemical was one of 10 industrial companies that were spun off from the local oil and chemical industry administration bureau, a government body, to the competitive market economy in 2002.
After 10 years of being tested by the market, seven of the 10 have wound up bankrupt after the influx of foreign peers and local private companies carved up their market share.
As a Shenyang native, the 50-year-old has seen the city, once the powerhouse of China's heavy industry, transformed from grand to grim.
He recounted the time when hundreds of retirees or laid-off workers of other companies flooded into a narrow street that his former office faced, asking for unpaid wages and pensions during the period 1996 to 2000, when Wang was head of a rubber company in the city.
Some streets were packed with people. An atmosphere of gloom spread throughout the city, which enjoyed its glory days prior to the 1990s.
Northeast China, in which Shenyang is the biggest city, was the cradle of New China's heavy industry and the base of Daqing oilfield, the country's first exploited oilfield, discovered in 1959. It is capable of producing 50 million tons of crude oil a year, playing a critical role in meeting China's acute demand for energy.
The region, crippled by its out-of-date infrastructure and equipment, as well as its poor logistics and transportation, started to hit hard times when the coastal eastern region emerged, thanks to China's export boom.
The sudden downturn in the region left thousands of people unemployed.
To cope with the situation, in October 2003, the central government issued guidelines to revitalize the old heavy industrial base in Northeast China. A slew of favorable measures included fiscal support, tax reduction and social welfare support.
Wang fully used the policies and his business acumen to weather the company's hard times.
As a pilot program to revive Northeast China, the CPP project was backed by the National Development and Reform Commission and won 220 million yuan of financial provision from the government, partly meeting its capital shortage for the project.
However, Wang said he is very sober about the current situation. Unlike some State-owned companies in highly monopolized industries, Shenyang Chemical is in a market that is full of rivals both from China and abroad.
"We have to keep innovating and build a strong research and development team to fuel the company's sustainable growth," he said.
Based on the CPP equipment, the company has built up an industry chain from upstream raw material supplies to downstream sales of petrochemical products.
"The next step is to expand the capacity of the CPP project and enter into more markets," Wang said.
zhouyan@chinadaily.com.cn
(China Daily 06/21/2012 page16)