Embassy to aid investigation into Nigerian trader's death
Updated: 2012-06-21 08:27
By Qiu Quanlin in Guangzhou and Wang Xiaodong in Beijing (China Daily)
| | | | | | | | | |
| --- | --- | --- | --- | --- | --- | --- | --- | --- |
|   | | Print | | Mail | | Large Medium  Small | 分享按钮 | 0 |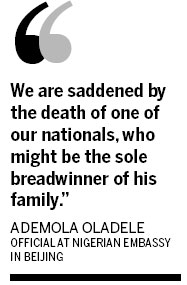 The Nigerian embassy in Beijing has sent officials to Guangzhou to cope with the investigation of a Nigerian's death in police custody.
"We have sent officials to Guangzhou to observe the investigation and calm the Nigerians in the Nigerian residential areas," Ademola Oladele, official for public communications at the Nigerian embassy in Beijing, said on Wednesday.
Elebechi Celestine, 28, the man who died, comes from a town in southeast Nigeria, he said. Celestine is said to argue with a motorbike taxi driver on Monday.
A fight ensued and police arrived and took both men to a nearby police station.
However, Celestine suddenly collapsed in the station and medical workers were unable to revive him.
The cause of his death has not been determined and police have set up a special task force to investigate.
"We hope to see an independent autopsy report," Oladele said, adding that the embassy will send experts to take part in the autopsy at an "appropriate stage".
"I presume he was doing legitimate business as a trader, like many other Nigerians living in Guangzhou," Oladele said. But he conceded that he did not know whether Celestine held a valid visa.
"We are saddened by the death of one of our nationals, who might be the sole breadwinner of his family," he said.
Oladele said Celestine's family in Nigeria has not contacted the embassy.
"We hope the incident can be appropriately addressed so it will not affect the current excellent relations between Nigeria and China," he said.
Nwankwo, 29, a Nigerian who said he was Celestine's friend, said Celestine telephoned him to ask for help after he was taken to the police substation. But he did not know what happened.
"His family called me yesterday, asking what was really happening here," Nwankwo said.
Nwankwo, 29, who would only provide his family name, said the Nigerian community in Guangzhou are waiting for a thorough and fair result.
"Otherwise, we will be too worried to continue our businesses and live here," he said.
Nwankwo, who came to Guangzhou more than a year ago, trades fashion clothes from Guangzhou to Africa.
No Guangzhou public security bureau officials would comment on the incident on Wednesday.
Guangzhou, an important trade city in South China, has more than 20,000 registered foreign residents, with a rising number of Africans engaged in trade in the Guangyuanxi, Sanyuanli and Xiaobei sections, according to the local police.
Nwankwo commutes daily between a rented apartment in the neighboring Nanhai district of Foshan and trade centers in Guangzhou.
"We have not found better communities to settle down in Guangzhou. A large group of us Africans live in Nanhai. We have to go between the two cities frequently, which costs at least 70 yuan ($11) one way by taxi," he told China Daily.
On Tuesday, after news of Celestine's death in police custody became known, a group of protesters gathered in front of the Kuangquan police substation at 3 pm, bringing traffic to a standstill. By 5 pm, police had dispersed the group.
The protest followed a similar gathering in July 2009, when hundreds of Africans protested outside the Kuangquan police substation after one of their compatriots was killed jumping from a building to escape regular passport checks by local police. Guangzhou authorities have tightened security and passport checks among foreigners.
To better regulate affairs as the number of foreigners in China increases, local authorities have set up 106 service centers and 36 pilot communities for expatriates in 10 cities in the Pearl River Delta region, sources with Guangdong provincial police authorities said.
Contact the writers at
qiuquanlin@chinadaily.com.cn and wangxiaodong@chinadaily.com.cn
(China Daily 06/21/2012 page5)