Clearing the air on measuring pollution
Updated: 2012-06-13 08:06
By Peng Yining, Wu Wencong and Hu Yongqi (China Daily)
| | | | | | | | | |
| --- | --- | --- | --- | --- | --- | --- | --- | --- |
|   | | Print | | Mail | | Large Medium  Small | 分享按钮 | 0 |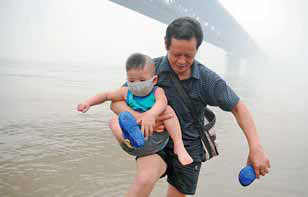 A masked Shen Yanwei gets a helping hand from his grandfather as they play on the banks of the Yangtze River in Wuhan, Hubei province, on Monday. Haze caused by farmers burning straw blanketed Wuhan and other cities. Zhou Guoqiang / for China Daily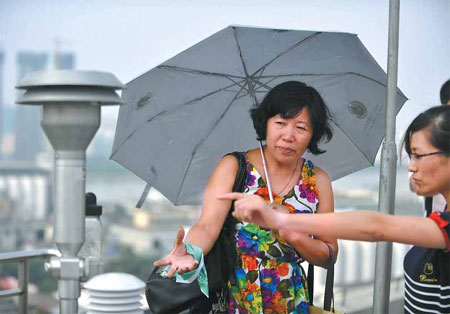 A Guangzhou resident visits a PM2.5 monitoring site in the city. There are 62 such sites in the Pearl River Delta in Guangdong province. Many cities in China set up such centers to analyze data over each 24-hour period and publish daily air quality report. Chen Yehua / Xinhua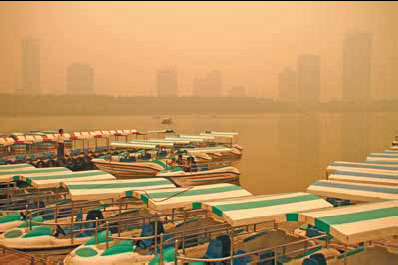 Heavy smog covers Nanjing, the capital of Jiangsu province, on the morning of June 10. Dong Jinlin / for China Daily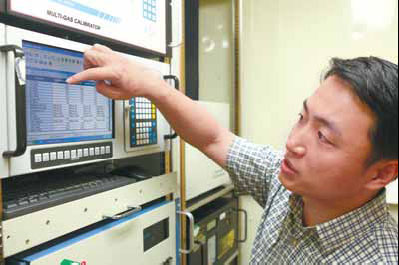 Wei Qiang of Beijing Municipal Environmental Monitoring Center, with a PM10 monitor. Feng Yongbin / China Daily
Getting the best out of monitoring is a priority, report Peng Yining, Wu Wencong and Hu Yongqi.
Beijing's Chegongzhuang Xilu was packed with pedestrians and cars on Monday morning, but few people even bothered to glance at the small white box set up by the roadside. However, from the telltale pumps jutting from the top, it's instantly recognizable as an air monitoring station.
Two pumps buzzed as they fed extracted air into the seven diagnostic units that assess the concentrations of nitrogen dioxide, sulfur dioxide and particulate matter in the air.
The results, displayed on a minute-by-minute basis, are forwarded to the Beijing Municipal Environmental Monitoring Center, which analyzes the data collected over each 24-hour period and publishes a daily air-quality report through TV, radio and newspapers.
Last month, China's environmental authorities ordered 74 cities to ensure that by the end of the year they have a mechanism in place to publish daily reports on levels of PM2.5, a hazardous airborne pollutant. PM2.5 refers to fine particulate matter, 2.5 microns or less in diameter. These particles are considered to pose a greater risk to health than larger airborne pollutants because they can penetrate more deeply into the lungs.
Zeng Xiangbin, director of the Wuhan branch of Friends of Nature, an environmental NGO, recently measured the PM2.5 level in his office on a monitor bought by the organization's members. According to Zeng, the machine, which cost 25,000 yuan ($4,000), has only "two or three buttons and is very easy to operate".
The national standard for a 24-hour period is 75 micrograms per cubic meter on average, with the annual mean limit set at 35 mcg per cu m. Although he didn't expect much of the air quality in Wuhan, one of the most populous cities in China, Zeng was stunned at the result indicated by the monitor. "My result was 90. And that was in my office, the air I breathe every day," he said.
Zeng's result was called into question by Huang Yuanfeng, senior engineer at Shenzhen Environment Monitoring Center in Guangdong province.
"People certainly have the right to monitor the air quality around them, but without professional training and equipment, the results might be inaccurate and not representative of the overall air condition," he said.
However, as many of the official PM2.5 monitoring sites are located in parks, schools and nature reserves, questions have been asked about whether the data garnered accurately reflect air pollution levels. One of the major reasons that the stations, which cost 2 million yuan each, are set up in these locations is that it is easier to manage and maintain them at these locations, according to Huang.
"More important, each station covers not only the park or school, but a radius of at least 5 km," he added.
He used the monitoring station at Huaqiaocheng Elementary School as an example. "The school is located in the city center, by Shenzhen's main street, and is close to a large manufacturing plant. As long as the air quality around this site is representative of the overall situation, it doesn't matter if it is a school or a park," he said.
Scientific selection
He Kebin, a professor of environmental science and engineering at Tsinghua University who took part in the formulation of the PM2.5 standard, said the current monitoring sites were selected after strict scientific assessment.
"The concentration of PM10, or particulate matter less than 10 micrometers in diameter, in schools and parks is no lower than in other urban areas," said He, pointing out that as the air circulates, pollutants from major traffic arteries and other sources tend to saturate a given area and thus affect the overall air quality. So monitoring sites in parks and school areas may indeed offer an accurate reflection of the general situation.
According to China's air-quality monitoring standard, released in 2007, monitoring stations should be sited to avoid direct interference from vehicle exhaust and other sources. For example, if a street has a traffic flow of more than 40,000 vehicles per day, the minimum distance between a PM10 testing site and the street should be 150 meters.
And there are strict regulations in force concerning the height at which monitoring stations are erected. If the station is ground-based, the pumps must be raised by 3 to 15 meters, while on stations erected on the roof of a building the pumps must not be set lower than 1.5 meters. That's to ensure a steady flow of air circulating around the station. "If the air is like stagnant water and there's no exchange with the surrounding areas, there is no point in conducting the examination," said Wei Qiang, a Beijing Municipal Environmental Monitoring Center employee who has been working with the monitoring devices for 13 years.
"In other countries, monitoring sites set up close to the street are not used to evaluate the city's air quality," said He from Tsinghua University, who explained that sites close to roads are usually used to evaluate the effects of traffic pollution sources on air quality and that the distance between a monitoring site and a road or other sources varies according to the site's function.
"Usually in the United States, the monitors are close to where people live, but are sited away from sources such as busy streets and factories," said Robert A. Harley, professor of environmental engineering at the University of California at Berkeley. "In my opinion, it's OK to site in parks and schools, as long as the sites include city centers, rather than just quiet locations far away in the countryside."
The major sources of PM2.5 are motor vehicles and other combustion sources, such as coal-fired plants, and secondary aerosols that comprise particles and, sometimes, liquid droplets combined with the gas. These are formed by photochemical reaction and are usually referred to as smog particles. The contribution from vehicles will obviously be highest near busy roads, according to Richard L. Corsi, a professor at the Department of Civil, Architectural & Environmental Engineering at the University of Texas at Austin.
Corsi said there are plenty of coal-burning sources in the suburbs of Beijing and that generally the highest concentrations of particulates will be found downwind of the urban core. "Given this, I believe it's important to collect samples from a wide range of locations," he said. "In the US, many schools are close to busy roads and so it's not a bad idea to collect samples near those schools."
Collecting samples at nature reserves, far removed from autos or other combustion sources, can probably provide good data on background concentrations, primarily reflective of smog particles if the reserves are situated downwind of the main urban area. This would allow a direct comparison with samples collected close to roads, according to Corsi.
"As an outside observer, I am actually impressed with China's moves toward improved environmental quality and suspect that over the next decade these standards will become more stringent," said Corsi. "China is basically going through the steps that the US went through starting in the early 1970s, but is doing so at a more rapid rate than we did. My hope is that government officials and scientists in China have benefited from the research done in the United States, and that this helps China as it moves forward."
Increased funding
Wu Xiaoqing, vice-minister of Environmental Protection, said China will invest more than 2 billion yuan to build up the number of sites to monitor air quality to 1,500 before 2015.
"Our standard says there should be one monitoring site every 25 to 30 square km. That's also the requirement in other countries," said Wu. "We will get closer to that by adding 800 monitoring sites to the current 600-odd nationwide by 2015. We are doing so in pursuit of a more thorough, objective and accurate evaluation of our air quality."
Ma Jun, head of the Beijing-based Institute of Public and Environmental Affairs, said the current target set for China is in accordance with the level of economic development. "It's important that the government describes air quality in a realistic way, for example by not using the phrase 'slightly polluted' to enhance the prestige of the official data, when it is obvious to everyone that the level is high," said Ma.
Moreover, the standard for national air quality, published in 2007 and including limits on PM2.5, was formulated too quickly, and it may be difficult to reach the goals it set out to achieve, according to Peng Yan, the China representative of the Manila-based Clean Air Initiative for Asian Cities, a network of governments, the private sector and NGOs.
Peng said the layout of monitoring sites in the 2007 air quality monitoring standard failed to take into account the vast numbers of people engaged in outdoor activities, especially those groups especially vulnerable to poor air quality, and suggested that they should be updated regularly.
"To evaluate whether a monitoring site is located reasonably, whether in the parks or on the street, is not important, as long as it is in accordance with the regular patterns of outdoor activity," said Peng, who suggested that the monitoring standards should be updated to meet the new air quality standards, so that improvements can be promoted steadily.
The US established a national ambient air quality standard for PM2.5 in 1997. The average over each 24-hour period was set at 65 mcg per cu m, with an annual average of 15 mcg per cu m. The standard was revised in 2006 and the 24-hour average became more stringent, being reduced to 35 mcg per cu m, while the annual average remained unchanged. The revision was based on evidence about the deleterious effects on health of fine particles that was unavailable before 1997.
"The reasons behind the changes to the PM2.5 standard in the United States were new information and greater concern about the effects of PM2.5," said Harley from the University of California. "It would be helpful to better understand which components of PM 2.5 are the most toxic to people's health. And then the control efforts and monitoring could be targeted at the sources and pollutants that cause the most harm."
Contact the reporters at pengyining@chinadaily.com.cn, huyongqi@chinadaily.com.cn or wuwencong@chinadaily.com.cn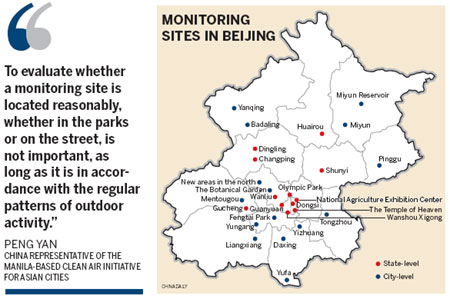 (China Daily 06/13/2012 page1)