Hard times call for innovative entrepreneurship
Updated: 2012-06-12 08:27
By Zheng Yangpeng (China Daily)
| | | | | | | | | |
| --- | --- | --- | --- | --- | --- | --- | --- | --- |
|   | | Print | | Mail | | Large Medium  Small | 分享按钮 | 0 |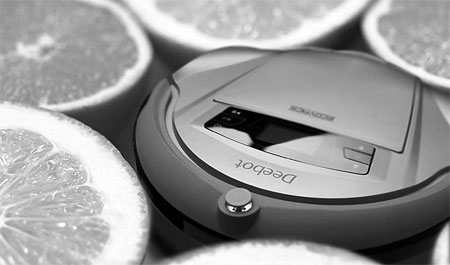 An Ecovacs cleaning robot made by TEK Electrical (Suzhou) Co Ltd. The company started out as a manufacturer of household cleaning appliances for overseas brands. Provided to China Daily
Editor's Note: China Daily business reporter Zheng Yangpeng recently took a tour to find out how once export-oriented companies are coping with the consequences of the global economic crisis and, if possible, using them to change themselves into more competitive businesses. He visited Suzhou in Jiangsu, a province in the Yangtze River Delta, and Guangzhou and Dongguan, two cities in the Pearl River Delta in Guangdong province. The following is what he found out.
Investors know that Warren Buffett once said: "Only when the tide goes out do you discover who's been swimming naked."
All Chinese learn in school that Confucius said: "Only when the cold season comes, then we know the pine tree and the cypress are the last to lose their leaves."
So in today's business world, with its rapidly changing tides and seasons, how can managers learn to swim while still putting their swimming costumes on? Or, how can companies transform themselves from ordinary ones, like trees that become dry and bald in the winter, into ones that can continue to grow in bad times, like evergreens?
More than three years after the outbreak of the global financial crisis, fresh answers are now being given by some Chinese companies as to how to transform themselves from manufacturers of cheap goods into ones providing more value-added goods and services.
Among those more successful companies, no one is counting on more overseas orders for low-skilled processing operations.
No one is trying to produce more by hiring more cheap labor, especially when labor is no longer cheap, or by working long hours.
Everyone is competing by beefing up their tech teams, and through serious research and development and design management.
And everyone is trying to generate more value for customers. They may be leading the way among the post-crisis generation of Chinese entrepreneurship.
Emphasis on tech
TEK Electrical (Suzhou) Co Ltd now has its new products showcased on overseas websites about consumer gadgets. But in 1998, when it just started, it was a simple manufacturer of household cleaning appliances for overseas brands.
There's nothing extraordinary about that, as original equipment manufacturing was the game at that time in China, when coastal cities were competing for opportunities to make products or components for international companies under the latter's brand names.
But TEK Chairman Qian Dongqi did not believe in fate. He wanted to chase a lofty goal, even if it meant, he said, that he had to travel on a rocky path. He dreamed about creating his own brand, and he wanted to do so through innovation.
After "many failures", Qian began to market his intelligent cleaning robots in 2006. Ecovacs is said to be a "well-established" brand of cleaning robots in the US and European markets.
From the company's showroom, the 47-year-old entrepreneur could explain lines of cleaning robots like his own children.
Winbot, for example, is a recently developed window-cleaning gadget that sells for $399 and is beginning to get good feedback from the market.
Right now, although OEM still accounts for 70 percent of TEK's annual sales, sales of branded products already accounts for more than 50 percent of the company's profit, showing a visibly higher markup than the former.
In the first quarter of this year, TEK's overseas trade reached $354.6 million, showing growth of 27.1 percent year-on-year. By contrast, the city of Suzhou, faced with a general decline in orders for made-in-China goods, saw its trade value grow just 0.7 percent from the same period last year.
TEK has been diverting around 50 million yuan ($7.87 million), or more than 5 percent of its annual sales to R&D. But that doesn't lend much sense of security to Qian.
"In China, you get crushed if you don't innovate; but you may also get crushed if you do," he said.
Innovation requires taking a lot more risks than OEM, in that companies have to manage their own business strategies and cope with all market caprices. While OEM, especially in times of no change, tends to generate steady and timely returns.
More importantly, to focus on innovation, for an enterprise of 3,500 employees and sales of 100 million yuan ($15.7 million), also means resisting the temptation to just stay in the comfort zone or to chase speculative returns.
From the point of view of OEM, Qian admitted that TEK has "wasted a lot of opportunities", because it does not have the capacity to take all the orders coming its way.
Inevitably, TEK will take even fewer OEM orders. Qian said his plan is that original design manufacturing would account for more than 80 percent of TEK's business in three years, or that the company would be primarily operating based on its own patented technologies.
By then, TEK's game would be to learn to compete with the large international competitors with high finance and sophisticated technologies. But Qian said the company will continue to rely on its strengths in decision-making and innovation.
Managing relations
Wu Yixiong used to be one of the 3,000 factory owners who made a fortune making jeans in Xintang, a satellite town of Guangzhou dubbed China's "jeans capital".
But he did not want to be just one of the 3,000 factory owners who produce 60 percent of China's jeans and 40 percent of the world's, but do not own a single renowned brand name. He wanted to create his own brand.
Even among the few entrepreneurs who are seriously building their brands, Wu is unique. He leaves marketing and sales to local distributors while matching them with their most favorable designs.
Having discovered that the majority of the profit would go to brand owners, Wu registered his first trademark in 1995. But that was just a label for products based on the specifications and styles of an order placed by a Hong Kong merchant, and was doomed to failure.
After he shipped the jeans of his "brand" to the United States, he was dismayed to learn that they ended up not in shops, but in warehouses, because his specifications and styles were not for the US market, but for the European market.
"This taught me a great lesson," Wu said, recalling that experience somberly.
It dawned on him that knowing local markets was the key - no matter how many of them there are. So he set about looking for and working with local designers, in the US and Italy.
In order to get them interested in working for him, an obscure maker of jeans from China, he had come up with generous terms - by offering international designers royalty payments from sales.
"The more jeans are sold, the more money they earn," Wu said. "They are not working for me. They work for themselves." And it doesn't mean contracting just two or three of them.
The US, he said, "is like a United Nations", where styles change from region to region, and he has hired local designers across the nation.
The turning point came in 2007, when Wu's brand, Vigoss, successfully moved up from the just so-so level to the "mid- and high-end". It is now displayed at upscale department stores such as Bloomingdales in New York and sells for as much as $500.
Despite Wu's breakthrough designs, he is still cautious about setting foot in distribution and retail, saying that, as a foreigner, he is still at a disadvantage compared to local distributors.
This way he concedes, as he himself said, the majority of his revenue to designers and distributors, keeping his own profit margin almost as low as his old OEM business.
"I could have increased the margin," he said. But after financial crisis broke out in 2008, "I didn't dare to raise the price for distributors as they all faced a grim situation".
Wu said he did not raise the price of his products until things began to get better in 2010, only to be followed by the rapid increase in material prices and labor costs in China. The newly increased profit from abroad was quickly eaten up by rising costs from home, he added.
But he said he still believes he made the right move. "We used to take orders or be dismissed by others. Now it is us who give orders or dismiss others," such as outsourcing some of the production operations to some brand-less companies. "Now I feel I am really developing a career for myself," he said. "A career that has a future."
Joint R&D
Unlike other successfully transformed former OEM companies, Suzhou Victory Precision Manufacture Co Ltd does not own a brand. Nor does it plan to have one.
You do not see its logo or name on the frame, or the base, of LCD television sets, but it makes parts for many major television brands, such as Philips, TPV, Sharp, LG, Haier and Hisense.
Victory Precision is, in fact, a designated qualified supplier for nine out of the top 10 global TV brands.
Or, you can say Victory Precision's "brand" is the way it does business: It has changed the traditional definition of OEM by taking part in the R&D process of its clients. Its practice is a brand-new type of OEM.
Victory Precision, a privately owned company, was founded in 2003. But almost as soon as it started, it learned that the days for its business model, called processing with supplied designs, were numbered.
As the general price level for consumer electronics would go down by an average 15 percent each year, its manufacturers, unless they can manage to keep on cutting costs at a corresponding speed, faced grim prospects.
Fearing it would get stuck with a business with no future, Victory Precision decided to opt for its only method of survival, said Cao Haifeng, its president. And that was to give a better show to its specialized competitive edge by working with its clients from their R&D stage.
Out of its 45,000-strong payroll, the company has around 130-odd R&D employees. They are divided into three teams, with the first team specializing in helping clients to improve their own designs of the frame.
The other two teams focus on developing their own ideas and recommend them to clients, ranging from solutions that will save components and reduce costs, to designs that will prove more appealing to customers.
Cao boasted that compared to some of the clients' original designs, Victory Precision's ideas would help them earn up to 20 percent more in profit.
Such solutions and designs have, in due course, helped the company rake in more production orders. Cao was proud that his company can outdo its rivals simply because of its better R&D.
"We have a team of 35 specialists promoting new ideas. They come up with five to 10 new ideas every three months. Generally, one out of every five of our new ideas will sell to our clients," Cao said. "
Despite the global recession, the company has been able to keep its annual sales growing by around 10 percent.
But Cao admitted that making the LCD frame is still a low value-added operation. And its profit has been squeezed by rising labor, materials and transportation costs.
The company has already built a processing plant in Poland "to save logistics costs", said Cao, adding that it provides 80 percent of Philips' annual procurement of frames.
Besides, Polish workers are "slightly more productive" than Chinese workers but receive the same wage as the latter, Cao said.
zhengyangpeng@chinadaily.com.cn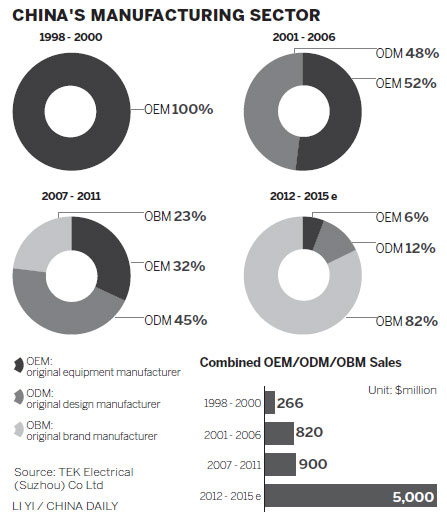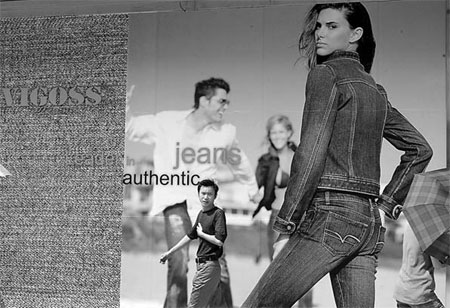 An advertisement for Vigoss jeans in Guangzhou, Guangdong province. The designed-in-China jeans sells at upscale stores such as Bloomingdales and Nordstrom in the United States. Xin Lei / For China Daily
(China Daily 06/12/2012 page13)