China's answer to the Apple success story?
Updated: 2012-06-07 08:03
By Shen Jingting (China Daily)
| | | | | | | | | |
| --- | --- | --- | --- | --- | --- | --- | --- | --- |
|   | | Print | | Mail | | Large Medium  Small | 分享按钮 | 0 |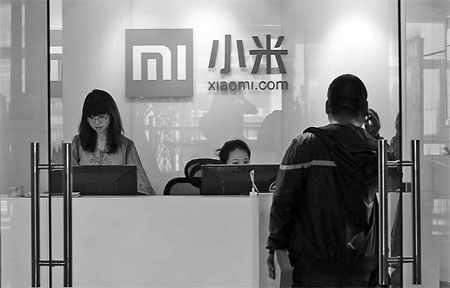 The front desk of Xiaomi Corp's headquarters in Beijing. Feng Yongbin / for China Daily


Xiaomi Corp's Lei Jun wants to emulate legendary US brand
Will any Chinese mobile phone company replicate Apple Inc's tremendous success? The answer from Lei Jun, chairman and chief executive officer of Xiaomi Corp, may be a big "Yes".
Established in April 2010, the Beijing-based Xiaomi offers high-capability smartphones below 2,000 yuan ($317), an aggressive pricing strategy that almost puts the selling price at its factory cost.
Since its debut on Aug 16 last year, the 1,999 yuan Mi-One, the first generation of Xiaomi mobile phones, has attracted great attention in China.
About 300,000 Xiaomi handsets were pre-ordered in the first 34 hours after Xiaomi accepted online booking from Sept 5, 2011. The company had to immediately suspend selling because stocks ran out. On Dec 18, Xiaomi resumed online sales but its stockpile of 100,000 handsets began to run out in just three hours.
In an exclusive interview with China Daily, Lei said he expected the company to sell more than 5 million Xiaomi handsets by the end of this year. Xiaomi's revenue is likely to exceed 10 billion yuan this year, he predicted.
The broader vision of Xiaomi, Lei pointed out, is to ship more than 100 million smartphones annually for one model by 2016.
"I know it (the vision) is crazy, but we would like to have a try," said Lei. Cupertino-based Apple managed to sell more than 90 million iPhone devices last year. It is widely believed that Apple will break the 100 million unit mark this year, although it has been less than five years since the first iPhone launched in 2007.
Obviously, Lei at Xiaomi dreams of a similar growth pace as Apple's. "If one electronic consumer product really catches on, it will spread at an extremely rapid pace, beyond what you could imagine," he said.
Go with the trend
Lei, 43, is a serial entrepreneur and an iconic business leader in China's software and Internet industries. He became CEO of Kingsoft Corp, a leading Chinese software developer, at the age of 25. In 1999, he invested in the e-commerce company Joyo.com but sold the website to Amazon in 2004 for $75 million.
Kingsoft went public on the Hong Kong Stock Exchange in 2007 and Lei retired. After leaving Kingsoft, Lei acted as an angel investor and made investments in a bunch of well-known Chinese Internet companies, including online clothing retailer Vancl.com and UCWeb, a Beijing-based mobile Internet browser manufacture.
With considerable wealth accumulated from his early experiences, Lei enjoys financial freedom and has no need to work for a living. However, he did not choose to lead a relaxing life but has thrown himself into the hard, competitive smartphone industry.
"Setting up Xiaomi was doing the right thing at the right time," Lei said.
During his retirement, Lei did some serious thinking. The most important thing he learned was that if one individual wants to achieve really big success, he should always follow the trend, otherwise, his efforts will be in vain.
"When I was at Kingsoft, I was under pressure and worked hard, but the results were not satisfactory. On the other hand, I discovered some Internet companies, such as Sina.com and Sohu.com, easily made fortunes and had a greater influence on society," Lei recalled.
"I really struggled then," Lei said. Gradually, he concluded that doing the right thing is much more important than doing the thing right. He used to tell a joke - a pig could fly if it finds itself in the eye of a storm. By this he means things get much easier if one jumps on the bandwagon of existing trends.
Now the mobile Internet is the next big trend, and Lei is determined not to miss it.
Mary Meeker, a former Morgan Stanley analyst, predicted as early as 2009 that more users would access the Internet via mobile devices than desktop personal computers within five years.
"Smartphones, e-book readers, connected in-car electronics and wireless home appliances like gaming consoles would sell more than 10 billion units by 2020. That's 10 times more devices than there are desktop PCs," said Meeker in a report published in 2009. She predicted that the mobile Internet revolution will produce a new crop of winners, whose ranks won't include today's giants.
That may probably create opportunities for Xiaomi. Lei hopes his company will become a Fortune 500 consumer electronics company someday, competing with the likes of Apple and Samsung Electronics Co Ltd.
China, a country with the world's biggest mobile population of more than 1 billion, has naturally become the birthplace of world-class smartphone companies because of its huge market.
China overtook the United States to become the world's largest smartphone market by volume in the third quarter of last year, according to the research firm Strategy Analytics. "China is now at the forefront of the worldwide mobile computing boom," said Neil Mawston, executive director at Strategy Analytics.
Lei expressed similar optimism about the Chinese smartphone market. Volumes are high now but the country still has even bigger potential, he said. "I expect two-thirds of Chinese people will be using smartphones by 2013," Lei said.
"We may go with the trend this time - the initial popularity of Xiaomi has proved that," Lei added.
Why Xiaomi?
The overnight success of Xiaomi almost caught Lei off guard. Limiting the supply of Xiaomi handsets led to media accusations of "hungry marketing". It's a practice that seeks to work up a fever for a product that becomes contagious.
Although everything is still under control and is going forward step by step, Lei admitted Xiaomi moved much faster than he expected. "We had a four-year plan but we finished it in two years," he said.
The success of Xiaomi phones is down to three things, Lei added. First, one-third of Xiaomi device-design ideas come from what users want. Second, Xiaomi sells handsets mainly through e-commerce websites, which cuts costs and helps lower the selling price. The third reason may be the most important - Xiaomi doesn't expect to make money from selling handsets but hopes to realize profits by providing software and related services, Lei said.
Xiaomi drew ideas from the Internet, gaining a reputation through word-of-mouth and sold handsets using e-commerce channels.
Roger Sheng, a Shanghai-based analyst with Gartner Inc, said one of the most important reasons why Xiaomi experienced success is because of the word-of-mouth effect promoted by millions of Xiaomi fans.
"There is no other way to purchase Xiaomi handsets except through online channels, which resulted in more people rushing to join the line-up because they're afraid of failing to get one," Sheng said.
Xiaomi's targeted customers are hardcore mobile device users. Most of them are fanatical about mobile devices, tend to be opinion leaders and like to suggest to their friends what handsets to buy.
It is true that Xiaomi paid attention to nurturing a close relationship with its customers. In addition to making smartphones, the company launched a cartoon character, the rabbit Mi-Tu, made promotional mini movies and designed special souvenirs, such as T-shirts, to attract and retain users.
Lei named April 6, the day when Xiaomi was established, as the annual carnival for Xiaomi fans. During the first event this year, hundreds of fans, invited from across the country, gathered in a small hall in Beijing's 798 art district, and chatted as if they were old friends at a reunion.
Some followers have made special music videos and add-ons for Xiaomi smartphones. Others said they had collected almost all the mobile phone cases of different colors produced by Xiaomi. "Xiaomi is the only smartphone brand that really captures my heart," said Liu Cheng, a Xiaomi user.
The 1,999-yuan classic model, together with its 1,499-yuan youth version smartphone, surprised the market at first, said Ji Chengdong, an analyst with research firm Frost & Sullivan. "Xiaomi became the first company to sell high-end smartphones at a relatively affordable price, which definitely drew the most market attention."
Shen Sui, an Internet analyst at consultancy firm iResearch, said: "Xiaomi has essentially imitated Apple's marketing strategy." Likewise, it aims to make a profit by combining the sales of hardware with its software, such as Miliao.
"The phone is clearly targeted at people on lower incomes who want a smartphone but cannot afford those priced at 4,000 yuan or more. This is a niche market that is largely ignored in the smartphone sector," Shen said.
Going global
Xiaomi will start selling smartphones in the overseas market in the second half of this year, Lei said. Rather than go to developed economies, such as the United States or Europe, Xiaomi has a more practical strategy - entering emerging markets.
It still needs time for customers in developed economies to recognize and accept a Chinese brand, Lei pointed out.
Countries such as Russia, India and Brazil may become the first destination markets for Xiaomi. "Because Xiaomi is a unique mobile phone vendor that has largely built its reputation through the Internet, we need to select markets with a good e-commerce environment and a well-established social network," Lei added.
"Similarly, Xiaomi will form a fans' group in every country in which we plan to have a presence," Lei said.
The MIUI, Xiaomi's mobile operating system based on Android, has already attracted millions of followers in 23 countries, which laid the foundation for Xiaomi's globalization.
C.K. Lu, a senior mobile device research analyst at Gartner Inc, said Xiaomi has an opportunity to penetrate markets especially in Asia, where users tend to be more cost-conscious. "But a lack of patents can be an issue for it (Xiaomi) when leaving its home market," Lu wrote in an e-mail.
Cultural challenges, limited experience in international operations and a shortage of talent are likely to be major obstacles to achieving the desired result, said Duncan Clark, chairman of investment consultancy BDA China.
Xiaomi raised about $90 million in the latest round of funding on Oct 20. The investors included Temasek Holdings, International Data Group and Qualcomm Inc. Xiaomi's total fundraising amounts to $131 million.
Lei said Xiaomi would not go public in the next five years. "If we have an IPO, we may be distracted from delivering good products," he said.
Lei said he had received no salary from the company, even though he is its CEO.
"I just hope Xiaomi will fulfill my dreams and become a world-class company. Working for Xiaomi is the last job of my lifetime."
shenjingting@chinadaily.com.cn
(China Daily 06/07/2012 page14)