Flexible relationship of cooperation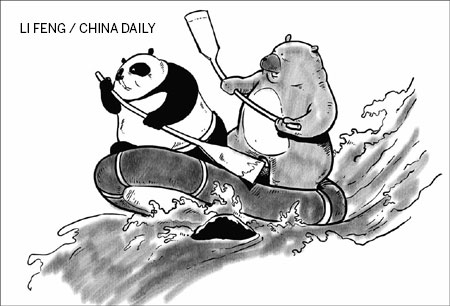 China is not Vladimir Putin's first foreign trip since his inauguration as president. To date, he has visited Belarus, Germany and France, and he has received the European Union troika in his native St. Petersburg. Still, Putin's talks in Beijing will come before his meeting with Barack Obama, scheduled for later this month in Las Canos, Mexico, on the margins of the G20 summit. Any leader's schedule immediately following his inauguration is thought to be symbolic, but, in Putin's case, Russia's needs and his own convenience are paramount. That China is placed after the symbolic call on an ally in Minsk and the serious discussions with EU leaders at two levels - the continent's heavyweights and the Commission/Council chairs - but ahead of the United States, may be seen as revealing. In reality, China has long become, next to the United States and Russia's neighbors in Europe, an exceedingly important partner for the Russian Federation.
Putin, of course, is not tilting toward some kind of an alliance between Moscow and Beijing. This is an idea whose time has passed. Putin is the ultimate global balancer. Russia is in the G8 - although the president of Russia can afford to skip an occasional G8 summit in the United States - and a member of BRICS; it is talking with NATO about coordinated missile defenses in Europe, while building its own in Russia and modernizing Russia's deterrent; it is supportive of the Shanghai Cooperation Organization and at the same time promoting economic and security integration with former Soviet republics in Central Asia; and it is expanding ties with China at the same time as it is upgrading cooperation with India, Vietnam and fully open to normalizing relations with Japan. This list does not suggest geopolitical promiscuity; rather, Putin's keen sense of the complexity of contemporary international relations.
To Russia, China is as important as any power in the world with the exception of the United States. China is a neighbor across an almost 4,500-kilometer border; it is Russia's largest trading partner, ahead of Germany; and it is a key geopolitical partner, from the UN Security Council where the two nations exhibit similar political philosophies to the regional settings in Central and Northeast Asia, where Moscow and Beijing have compatible geopolitical interests. Putin once said that he considered the finalization of the Sino-Russian border as his premier foreign policy achievement during his first presidency. He spoke from his head as well as from his heart. Putin has long focused on spurring the economic development of Eastern Russia, from the Urals to the Pacific, and counts on China's contribution. Putin, however, also candidly spoke of Sino-Russian competition in Central Asia, which, to him, is natural.

Today's Top News
Editor's picks
Most Viewed