Greek exit from euro could cost up to $322b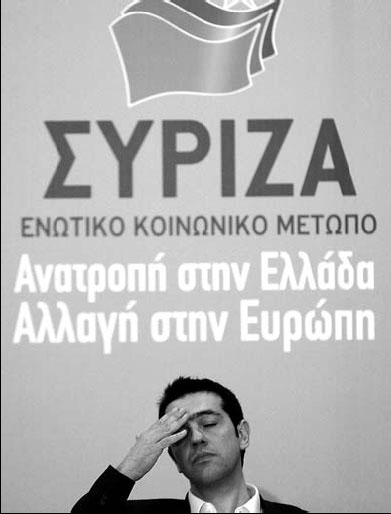 Alexis Tsipras, leader of the anti-bailout Syriza party, at a news briefing in Athens, Greece. Experts expect Greece to stay in the eurozone even if Syriza wins the country's election on June 17. Kostas Tsironis / Bloomberg
Greece could require as much as 259 billion euro ($322 billion) in immediate aid to shore up its banking system should the country exit the common currency today, according to Open Europe.
The rescue, which could come from other European Union countries and the International Monetary Fund, would be used to confront "a likely bank collapse and urgent cash shortage", the Brussels-based research institute said on Monday in a research report. Greece's eventual exit bailout would probably need to be at least 67 billion euros, Open Europe said.
Greeks, who choose a new government on June 17, are bridling against austerity measures designed to tame the deficit and keep the country in the eurozone. Greece was granted more than 200 billion euros of aid over the past two years in exchange for spending cuts.
Open Europe expects Greece to reach a compromise with its creditors to remain in the eurozone even if the anti-bailout Syriza party wins the election.
"Given the public support for the euro and the detrimental impact an imminent exit could have on the Greek economy, any new government emerging from the June 17th elections is likely to reach a deal with Greece's creditors allowing the country to stay in the euro for now," said Raoul Ruparel, head of Open Europe's economic research.
Greece must do its part to remain in the eurozone, German Finance Ministry spokesman Martin Kotthaus said.
While Germany expects Greece to remain within the eurozone, "Greece has to contribute its share - and that's why we need a Greek government, and Greece has to stand by its obligations," Kotthaus told reporters in Berlin on Monday.
At a Russia-EU summit in St Petersburg on Monday, European Union President Herman Van Rompuy said the 27-member bloc favors Greece remaining in the eurozone.
Planning ahead
Some countries are already drawing up contingency plans should Greece exit from the currency bloc.
The Chinese government has called on key agencies including the central bank to come up with plans to deal with the potential economic risks of a Greek withdrawal from the eurozone, three sources with knowledge of the matter told Reuters on Monday.
The sources said the plans may include measures to keep the yuan currency stable, increase checks on cross-border capital flows and stepping up policies to stabilize the domestic economy.
As investor concerns over Greece's possible exit from the eurozone grow, the Chinese government has called on related State agencies, including the National Development and Reform Commission, the central bank and the banking regulator, to discuss contingency plans, the sources said.
"It's very urgent," a source with direct knowledge said. "The government has asked every department to analyze measures to cope with a Greek exit from the eurozone and make their own suggestions as soon as possible."
Agencies in New York and Beijing
(China Daily 06/05/2012 page17)
Today's Top News
Editor's picks
Most Viewed