Assad says terrorists committed massacre
Updated: 2012-06-04 07:48
By Agencies in Damascus (China Daily)
| | | | | | | | | |
| --- | --- | --- | --- | --- | --- | --- | --- | --- |
|   | | Print | | Mail | | Large Medium  Small | 分享按钮 | 0 |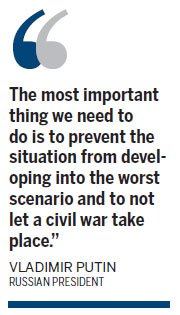 Syrian President Bashar al-Assad denied on Sunday that his government had anything to do with last week's gruesome Houla massacre, saying that not even "monsters" would carry out such an "ugly crime".
In a televised speech to Parliament, Assad expressed horror over last week's killing of more than 100 people in the central Houla region and blamed terrorists and extremists for the bloodshed.
"If we don't feel the pain, the pain that squeezes our hearts, as I felt it, for the cruel scenes - especially the children - then we are not human beings," Assad said in his first comments on the massacre.
The 46-year-old president denies that the uprising has popular support, saying that foreign extremists and terrorists are driving the revolt.
Assad said his country is facing a "real war".
Its effect is already spilling over onto Tripoli, a northern Lebanese city where fierce clashes between supporters and opponents of Assad killed 13 people.
Residents said relative calm had returned to the city since the government deployed around 7 am, after gunmen exchanged heavy machinegun fire and rocket propelled grenades.
Ye Hailin, a researcher from the Chinese Academy of Social Sciences, told China Daily that the deterioration of the security situation in the region is beyond all doubt.
"Some in the international community hope to make Syria another Libya. But right now it is hard to anticipate, because the West still intends to politically push harder to realize regime change," Ye said.
International peace envoy Kofi Annan accused Assad's forces of atrocities and arbitrary arrests, and said on Saturday he had delivered a blunt message to Assad to act now to implement all points of a peace plan.
The UN and Arab League envoy said the specter of an all-out civil war was growing daily to the concern of other Middle East countries.
At a meeting with the Arab League, Annan gave a bleak assessment of Syria 15 months after the start of the uprising against Assad.
"(Assad) must make bold and visible steps immediately to radically change his military posture and honor his commitment to withdraw heavy weapons and cease all violence," said Annan, who met the Syrian leader in Damascus on Tuesday.
"What is important is not the words he uses but the action he takes - now," said the envoy, adding that his message to Assad had been "very direct and frank".
But the clashes spilling into Lebanon on Saturday increased international frustration with the UN-led peace plan and gave rise to fears that the violence could provoke a regional conflagration.
US Secretary of State Hillary Rodham Clinton discussed the situation with Russian Foreign Minister Sergei Lavrov in a telephone call on Saturday, a senior State Department official said.
"They both agreed that we have to work together," said the official, who provided details of the private discussion on condition of anonymity. "Her message to him was that we have to start working together to help Syrians with a serious political transition strategy."
According to Ye, "Washington worries that a regime change through military intervention, like what happened in Libya, could let al-Qaida take advantage of the situation".
Russia has refused to support any move that could lead to foreign intervention in Syria.
"The most important thing we need to do is to prevent the situation from developing into the worst scenario and to not let a civil war take place," Russian President Vladimir Putin said on Friday in Paris.
He added that consultation and more effort are needed "to solve, via political means, the problems we face".
The Russian president warned that imposing sanctions on the Syrian government must be debated within the framework of the United Nations Security Council.
"We propose to act in an accurate, balanced manner ... in Syria," he said, adding that in the expectation that all parties involved in the conflict sit down at the negotiation table, it is necessary to "reconcile all the parties to the conflict".
Though his two European counterparts, German Chancellor Angela Merkel and France's President Francois Hollande expressed a preference for a political solution to the Syrian crisis, they insisted that Assad's departure was "a prerequisite for a political transition".
"The West wants Assad to step down and doesn't want to be the direct agent of his departure. The Syrian opposition has maintained such an irresponsible attitude to attract more international attention and cause more killings and wounds. It would be senseless for the Syrian government to unilaterally implement Annan's peace plan, " Ye said.
Reuters-AP
-China Daily
(China Daily 06/04/2012 page12)