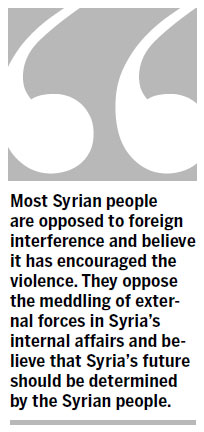 Most Syrians oppose external forces interfering in their country's internal affairs and want an end to the violence
On May 7, Syria held its first parliamentary elections since a new constitution creating a multi-party system was approved by a referendum in February. A total of 7,195 candidates, including 710 women, competed for the 250 seats in the legislature. The Syrian government invited more than 200 observers and journalists from around the world to observe and report on the elections. I visited eight polling stations on election day and felt that in general the election was well-organized and voters were allowed to vote freely.
Of the more than 10 million people eligible to cast their votes, 5.186 million participated in the election, yielding a voter turnout of 51.26 percent. The result of the election showed the status of Syrian President Bashar al-Assad's ruling Baath Party is still second to none.