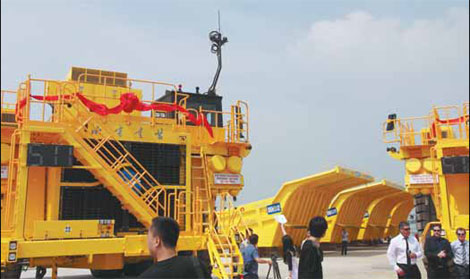 Trucks and mining equipment manufactured by Xiangtan Electric Manufacturing Corp stand ready to be shipped from a port in Xiangtan, Hunan province, to Rio Tinto's mining operation in Australia. The shipment is the company's first to an overseas market. Du Juan / China Daily
Four trucks from Xiangtan plant shipped to mines in Australia
Rio Tinto Group, the world's third-largest miner measured by market value, plans to buy more supplies from Chinese companies this year, a senior official with the company said on Thursday.
Mark Rivers, general manager of emerging markets procurement for the company, said Rio Tinto will spend $1.5 billion in 2012 in the Chinese market, or $300 million more than last year.
Up to 10 percent of that money will go toward purchases of mining equipment, especially of advanced technology, Rivers said.
On Thursday, Rio Tinto received a shipment of custom-built trucks from Xiangtan Electric Manufacturing Corp, a manufacturer based in Xiangtan, a city in Hunan province. That marked the first time that the Chinese company had exported trucks and a large step forward in its expansion into overseas markets.
"In the next 10 years, we will see big growth in the high-technology equipment market in China," Rivers said.
The four trucks, which are each capable of hauling 230 tons of materials, will be shipped to Rio Tinto's iron ore operations in the Pilbara, a region in Western Australia. The trucks are expected to be put into use in August at the Mt Tom Price mine, where they will be tested in the field for three years.
"It has been our dream to export our trucks to overseas mines in developed countries," said Li Jiping, vice-president of XEMC. "Today, we finally realized that dream."
Li declined to say how much the trucks cost, only saying they went for a "very competitive" price.
He said the deal merely marked the start of the cooperation that will continue between the companies, which are now discussing three other possible orders.
Li said XEMC plans to establish a subsidiary in Australia next month. That business is to go into operation in July.
"Besides producing high-quality equipment, our company is also working to improve our after-sale services to make us stronger competitors than our foreign counterparts," said Zhou Jianxiong, chairman of the company. "This project not only provides us the opportunity to cooperate with Rio Tinto, but also marks a step forward for Chinese heavy-duty equipment that is made for the global market."
He said the trucks that were exported to Rio Tinto were designed completely in China.
The company said XEMC will have the capacity to produce 200 trucks this year and is likely to actually produce between 70 and 80.
"It is fitting that world-class mining equipment from China should operate in Rio Tinto's world-class mines," said Tom Palmer, chief operating officer at Rio Tinto's Pilbara Mines. "I believe these trucks will play a vital role and contribute to our growth programs in the Pilbara."
Palmer said Rio Tinto will increase the number of trucks used at the mine from 230 to 350 in the next two to three years, a change that will open opportunities to suppliers. The trucks, which are being operated in the mine, are from suppliers in Japan and the United States. As a result, the four trucks from XEMC will be the first group of trucks from China to compete with products from international manufacturers of equipment for the mining industry.
"The working conditions for the trucks in the mine may be the toughest in the world, with extremely high temperatures and a terrible natural environment," he said.
"It is amazing that the Chinese company produced four trucks that can meet the strict requirements within just one year."
Some industrial insiders said they think Rio Tinto plans to buy more supplies from Chinese companies to increase its influence over the price of mining equipment.
The company said its intention is instead to become China's preferred partner, customer and supplier and its recent deal with XEMC is an opportunity to become a more important customer to Chinese industry.
dujuan@chinadaily.com.cn

(China Daily 06/01/2012 page13)