Sanya's cultural heritage set to attract visitors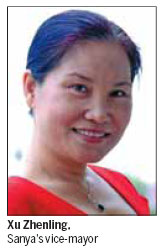 China's southernmost city of Sanya, Hainan province, will seek to exploit its unique cultural heritage, rather than simply build luxury hotels, as it tries to draw more international visitors, a senior local leader has said.
With a cultural heritage protection center set up in March, the tropical tourism hub is set to boost subsidies for the aging bearers of its intangible cultural heritage, including, and most notably, those of the Li ethnic group, which boasts a 3,000-year-old aboriginal oral culture, said Xu Zhenling, Sanya's vice-mayor.
The ethnic group, of which Xu herself is a member, has seen its numbers shrink by about 8 percent in Sanya in the past decade. The Li people now make up about 30.5 percent of the city's 685,000 residents, according to the 2010 Census.

Today's Top News
Editor's picks
Most Viewed