Questions remain after Lockerbie bomber death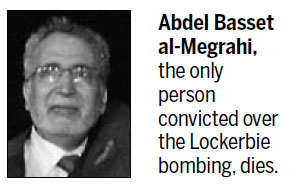 Abdel Basset al-Megrahi, the only person convicted over the 1988 Lockerbie bombing which killed 270 people, is to be buried on Monday after he died of cancer protesting his innocence to the end.
Megrahi was found guilty of blowing up Pan Am flight 103 over the Scottish town of Lockerbie in 1988, which killed all 259 people on board along with 11 people on the ground.
He died on Sunday, almost three years after the Scottish government freed him from jail on compassionate grounds following his prostate cancer diagnosis.

Today's Top News
Editor's picks
Most Viewed