Chinese airlines stand firm against EU's emissions trading scheme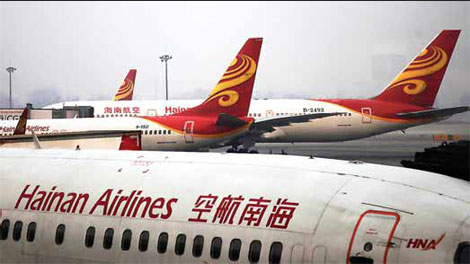 Hainan Airlines' planes at Beijing Capital International Airport. Chinese airlines said they will continue to oppose the European Union's Emissions Trading Scheme in accordance with a position taken by the government. Provided to China Daily
Chinese airlines will continue to oppose the European Union arrangement used to reduce greenhouse gas emissions, despite the EU's warning that it might take punitive measures in response, the China Air Transport Association said on Thursday.
"Chinese airlines' opposition to the Emissions Trading Scheme has not changed, and Chinese airlines will not abide by the system without being ordered to by the government," said Chai Haibo, deputy secretary-general of the association.
Chai said Chinese airlines are following an order that the Civil Aviation Administration of China issued in February, forbidding them from abiding by the ETS without first receiving the government's permission.
"The government has not released any new orders pertaining to this issue," Chai said. "So the carriers will follow the current orders."
Several government departments are working on a plan to deal with carbon emissions in general, not just those coming from the aviation industry, he added.
Eight Chinese airlines, along with two of their Indian counterparts, have not submitted 2011 carbon emission data to the EU yet, whereas 1,200 carriers in the world have already handed over the reports, Connie Hedegaard, EU climate commissioner, said on Tuesday.
According to the EU's schedule, airlines should submit their carbon emission data for last year by the end of March and will be charged taxes on those emissions starting in March 2013, after this year's carbon emissions have been assessed.
Several Chinese airlines, including Air China Ltd, China Southern Airlines Co Ltd and China Eastern Airlines Co Ltd, appear on the EU's tax list.
Hedegaard said the 10 Chinese and Indian airlines that have yet to submit the data emit less than 3 percent of the industry's greenhouse gases. She declined to identify the airlines.
The European Union will impose punishments on them if they do not report the data by mid-June, said Hedegaard, China News Services reported on Wednesday.
The airlines could be fined or even banned from flying to Europe, business insiders said.
Chinese airline officials said they are not worried by the threat of punishment.
Hainan Airlines is adamant that it will follow the government's order and is acting in unity with other airlines, said Dong Jun, manager of the public relations center of Airlines Holding Co Ltd of HNA, a company on the EU's tax list.
"Chinese airlines will march in step with the government and we are not worried about the EU's warning," said Luo Zhuping, secretary of China Eastern Airlines' board.
Airbus SAS reported in March that $12 billion worth of orders from China had been suspended.
"We hope the EU will go back to doing things the right way and trying to resolve this issue through negotiations," Chai said.
wangwen@chinadaily.com.cn
(China Daily 05/18/2012 page15)
Today's Top News
Editor's picks
Most Viewed