Wuhan bank bomber given death sentence
Updated: 2012-05-15 07:59
By Cao Yin in Beijing and Zhou Lihua in Wuhan (China Daily)
| | | | | | | | | |
| --- | --- | --- | --- | --- | --- | --- | --- | --- |
|   | | Print | | Mail | | Large Medium  Small | 分享按钮 | 0 |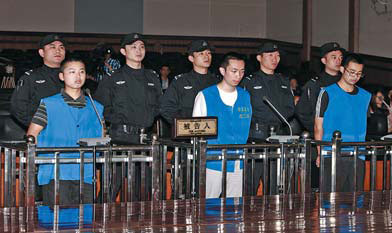 Wang Haijian (left), convicted for the Dec 1 bombing of a bank in Wuhan, Hubei province, and his two accomplices Wang Wei (center) and Wang An'an stand trial at the Wuhan Intermediate People's Court on Monday. Zhang Chang / China News Service
A man who shocked China by detonating a bomb in front of a bank in Wuhan, Hubei province, was sentenced to death on Monday, according to the city's intermediate people's court.
Wang Haijian, 25, was convicted of using explosives in a robbery attempt on a China Construction Bank branch in Hongshan district of Wuhan with self-made explosives on Dec 1. Two people were killed and 15 injured.
The convict said at the five-hour trial that he began learning to make explosives using the Internet and books in October 2010, and he originally intended to sell them to mine developers and companies.
In March 2011, Wang, a resident of Zaoyang, first met Wang Wei, his co-defendant in the case and moved to Wang Wei's rented room n Hongshan district, where the two made explosives, according to court papers.
Two months later, Wang Haijian asked Wang An'an, another friend of his, to join his explosives business. The three started planning to rob a bank after they failed to sell their explosives, Wang Haijian told the court.
Wang Haijian's left eye was injured during one of the explosives experiments the three conducted when they were planning the robbery, according to the verdict.
The three had divided their work. Wang Haijian was responsible for choosing a target bank as well as installing and detonating the explosives, Wang An'an was responsible for committing the robbery and preparing a motorcycle for escape, and Wang Wei was supposed to hide the money after the robbery, according to the court.
After the bank was chosen, the three did some tests and made preparations for the robbery.
But Wang An'an and Wang Wei quit the robbery plan in August, saying they were afraid of punishment, according to the verdict.
Wang Haijian was not deterred by his accomplices' quitting.
He covered the explosives in cement and placed them in front of the bank. After detonating them, he did not carry out the robbery as planned and sped away on a motorcycle on the night of Dec 1, according to the court. He was captured two weeks later.
Wang Wei was sentenced to 10 years in prison, and Wang An'an received six years.
In addition, the judge did not ask Wang Haijian to compensate victims, because he has no fixed income and got a death penalty. Instead, Wang An'an and Wang Wei should pay compensation of 80,000 yuan ($12,680), including about 50,000 yuan to the victims.
Zhao Li, a criminal lawyer from the Zhen Bang Law Firm in Beijing, said the death penalty for Wang Haijian is fair, given that the crime was intentional.
Locals hailed the verdict.
"The verdict is in line with the public's expectations. The criminals must pay for their crimes," said Chen Jia, a 27-year-old employee in a financial company in Wuhan "I was afraid after the explosion, and my friends living in that district panicked as well."
Contact the reporters and caoyin@chinadaily.com.cn and zhoulihua@chinadaily.com.cn
(China Daily 05/15/2012 page3)