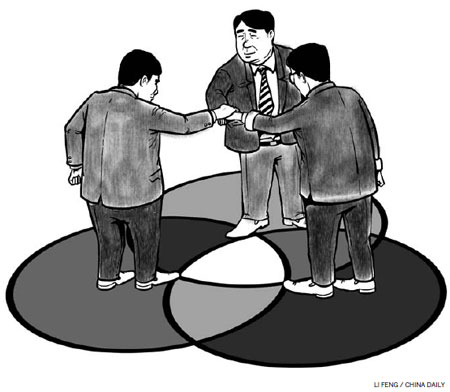 Chinese Premier Wen Jiabao said on Sunday that China, Japan and the Republic of Korea have agreed to launch talks on a free trade area this year. It is a significant step, which will both promote trade and advance friendly trilateral cooperation.
The study for an FTA between Japan and the ROK has been under way for 10 years, so one can imagine the difficulties involved in agreeing a trilateral FTA. In fact, only when an FTA between each pair of countries is created will it be possible to establish a trilateral FTA.
China and the ROK started their joint research on a bilateral FTA seven years ago, and have just announced that it has entered the negotiation stage. The slow process is due to the ROK's concerns about the impact Chinese agricultural products will impact on its market, while China has similar concerns about the ROK's heavy chemical industry. However, the growth in trade since the two countries established diplomatic relations twenty years ago indicates that the two economies are complementary.