Foxconn plans renewed shift into distribution
Hon Hai Precision Industry Co Ltd, also known as Foxconn, plans a renewed push into distribution with a new headquarters in Shanghai, construction of which started on Thursday.
Terry Gou, chief of Foxconn, Apple Inc's main manufacturer, said that the business model of the company's new e-commerce services will provide clients with "one-stop" services ranging from manufacturing to logistics and reselling to consumers.
He didn't elaborate on the plan but claimed that China's existing e-commerce business model was "burning money".
Speaking at a news conference in Shanghai, Gou said the move underscores Foxconn's determination to extend its business from manufacturing to distribution.
Hon Hai's push into distribution in China comes as manufacturing profits have been declining along with rising production costs.
Government data shows that the country's industrial enterprises have an average gross margin of just 5.28 percent.
Foxconn's first-quarter profit dropped more than 50 percent year-on-year to NT$14.92 billion ($508 million) from NT$35.03 billion, weighed by wage increases.
Foxconn, which assembles an estimated 40 percent of the smartphones, computers and other electronic gadgets sold around the world, has long wanted to enter distribution, where margins are typically higher than manufacturing, but has so far achieved little success.
In 2009, Foxconn invested 90 million yuan ($14.3 million) to establish the e-commerce website e-feihu.com. However, three years on, the B2C site has failed to catch up with industry leaders Taobao and 360.com.
Also in 2009, Gou formulated a blueprint aimed at Foxconn establishing its own distribution network on the Chinese mainland by setting up 10,000 chain stores. The plan is little mentioned now.
Gou admitted that this earlier push has "failed", but added that "failure is the mother of success".
"You will see a brand new e-commerce business in two years," he said.
The location of the new 50,000 square meter headquarters, due to be completed in 2015, says a lot about Foxconn's determination to transform. It is in Shanghai's Lujiazui, a mega financial district where there are no other industrial companies.
Foxconn's manufacturing and operational headquarters will remain in the southern city of Shenzhen.
Foxconn employs more than 1.2 million workers at 30 locations on the mainland.
Apple Inc's iTV
Gou said Foxconn is making preparations for iTV, Apple Inc's rumored upcoming high-definition television, although development or manufacturing has yet to begin.
iTV reportedly features an aluminum construction, Siri, and FaceTime video calling
Foxconn's recent 50-50 joint venture factory with Sharp in Japan is one of the preparations made for the new device, Gou added.
gaochangxin@chinadaily.com.cn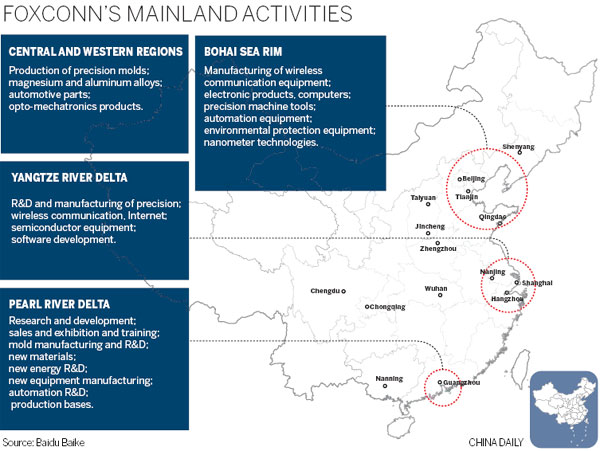 (China Daily 05/11/2012 page13)
Today's Top News
Editor's picks
Most Viewed