Tourists find cure for what ails them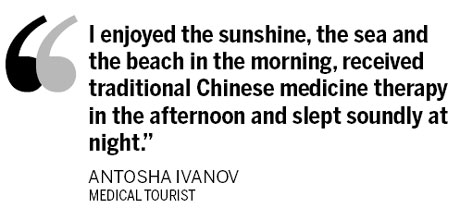 Antosha Ivanov spent eight days in Sanya, a coastal tourism attraction in Hainan province, in January and the Russian plans to return next winter.
"The trip was fantastic. I enjoyed the sunshine, the sea and the beach in the morning, received traditional Chinese medicine therapy in the afternoon and slept soundly at night after a few drinks," he said.
It was the first time he tried acupuncture and his joints, which had ached from arthritis for many years, got much better.
The cost of the tour was less than 30,000 yuan ($4,759). "It's a combination of tourism and medical care. It's worth it," said Ivanov.
Promising sector
He is one of the 20,000-plus "medical tourists" served by Sanya TCM Hospital. The hospital has had patients from Germany, Austria, Norway, Russia and some Central Asian nations.
It signed a contract with Rosneft Oil, the largest oil and gas conglomerate in Russia, in 2010 to admit 1,000 employees of the company for recuperation in Sanya every year. It also reached agreements with two medical institutions in Moscow on transferring patients to Sanya for rehabilitation.
The hospital also offers a TCM training tour. Medical students from Austria and Sweden have come to the hospital to get basic TCM knowledge and acupuncture and massage training.
Hainan is an island with rich tourism resources. China's TCM care services are attracting more people from around the world because of its natural and green characteristics.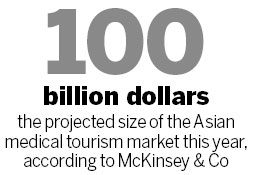 "We combine them, and it's proved to be very promising," said Liu Dexi, the hospital's president.
So far, a large part of the visitors are from Russia. The hospital said visitors from northern Europe are rising. The hospital declined to provide exact sales figures for recent years, though it said sales had grown fast and will accelerate even further.
Some of Hainan's natural resources also serve as TCM therapy resources, according to Bai Zhiqin, director of Hainan Health Department.
Bai cited mineral hot springs and forests with high-oxygen content as examples. "In line with TCM principles, these natural resources are helpful to treat many chronic diseases, such as respiratory illnesses and joint problems," he said.
A report by McKinsey & Co released in April said that Asia is the medical tourism market with the highest potential in the world. Revenue from the industry amounted to $34 billion in 2007, accounting for 12.7 percent of the global market. It is expected to reach $100 billion this year, the report forecast.
TCM tourism is expected to develop more quickly than the medical tourism industry in general, according to Liu Zhanglin, vice-president of the China Chamber of Commerce for the Import and Export of Medicines and Health Products.
International Medical Travel Association President Ruben Toralas said that China may use its advantage in TCM to diversify its medical tourism services to attract various kinds of visitors. The nation's price-competitiveness might help it take a greater share in the industry.
Eyeing the huge market potential, many local governments, such as Beijing, have taken steps to develop TCM tourism.
Beijing has a blueprint for the industry, based on both TCM science resources and many millennia of cultural heritage in the capital. A series of tourism bases, including a TCM heritage museum, medicinal herb planting park and TCM processing factories, are to be built or renovated.
The government said it expects the services to be a new engine of the city's inbound travel industry.
Beijing Guang'anmen TCM Hospital has set up an international department for foreign visitors that can treat between 400 and 500 visitors every month.
Although growing fast, TCM tourism is still in its infancy in China, which needs more government support, systematic market administration and supervision and good coordination between the medical care and tourism sectors, experts said.
China issued support policies for the TCM service trade, which designated TCM travel as one of the top four sectors that should be boosted in the coming years.
The other three are TCM doctors providing remote services via the Internet for foreigners, going abroad to practice treatments and opening clinics. TCM tourism is expected to grow the fastest among the four, said Liu.
(China Daily 05/11/2012 page17)
Today's Top News
Editor's picks
Most Viewed