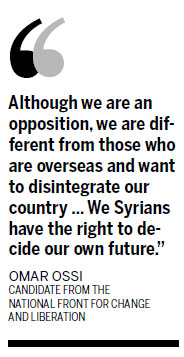 Syrians cast ballots on Monday in parliamentary elections billed by the government as key to President Bashar al-Assad's political reforms, but the opposition dismissed the vote as a sham meant to preserve his rule.
Polls opened at 7 am, and Syrian state TV showed voters lining up and dropping white ballots in large, plastic boxes. There are 7,195 candidates in the election competing for 250 seats in the new parliament.
Results from 12,152 polling stations across the country are expected to be announced on Tuesday or Wednesday.